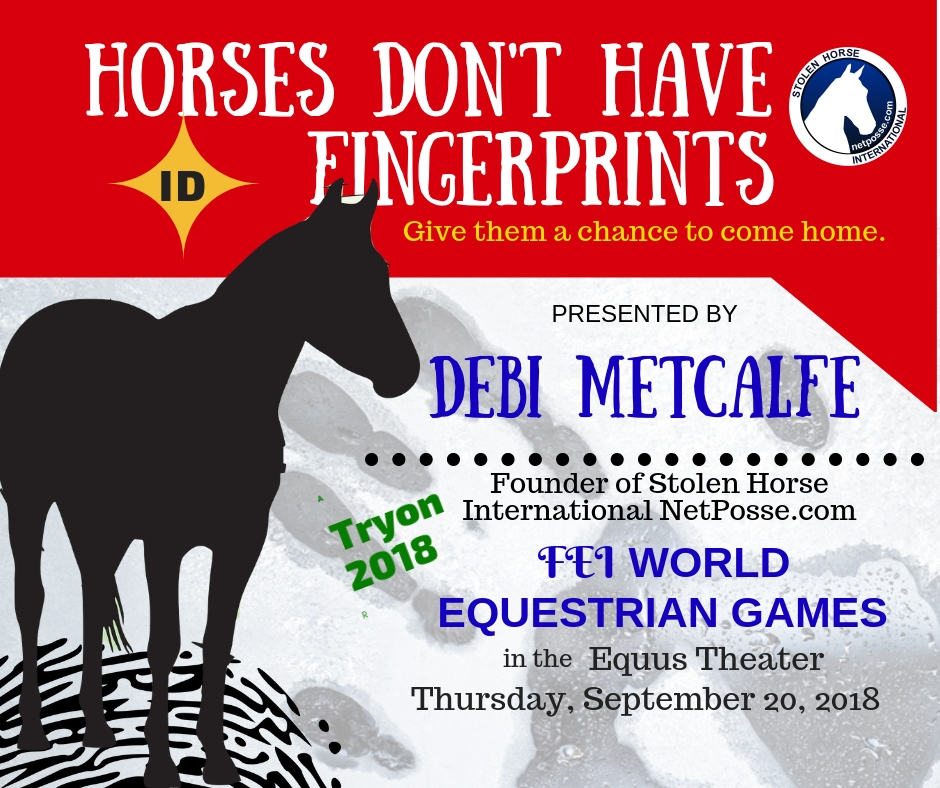 STOLEN HORSE INTERNATIONAL, INC.
PRESS RELEASE – FOR IMMEDIATE RELEASE
For more information, contact: Stolen Horse International
Email: pamela.miller@netposse.com
Phone: 864-449-1965/833-414-6773
Stolen Horse International Founder to Present at World Equestrian Games
Debi Metcalfe, will be presenting "Horses Don't Have Fingerprints" during the WEG, Tryon 2018.
Don't miss our founder Debi Metcalfe at the World Equestrian Games, Tryon 2018 September 20, 2018 @ 11:00am. Debi Metcalfe will be speaking about the importance of identifying your horse. Ms. Metcalfe discusses how identification is the best way of safeguarding the identity of your horse and how when something unexpected happens, you and your horse will be together again. Without proper means of identification, your horse may not have the ability to find their way home.
Debi Metcalfe, reviews the top 10 things she has learned about the importance of equine identification. She's a professional speaker, author, and the founder of the nonprofit organization Stolen Horse International, Inc., also known as NetPosse.com. The list is based on her experience working with thousands of victims and horse owners over the last 20 years. From the why to the how this session will give you the basics of equine identification, one of the most misunderstood equine topics in 2018.
See all World Equestrian Games speakers here: https://tryon2018.com/page/presentations
Stolen Horse International, Inc.™, also known as NetPosse, is a large network of equine organizations, volunteers and horse owners joined together to educate the horse industry about the problem of missing and stolen horses, disaster situations and much more. We provide information for horse owners and organizations regarding long-term responsibilities for equine protection, as well as focusing on bringing horses home™.
For more information on Stolen Horse International and its programs, visit the website at www.netposse.com. Stolen Horse International is a Section 501(c)(3) organization under the Internal Revenue Code. Contributions to it are tax-deductible as charitable contributions.
© 2018 – Stolen Horse International Public Relations – Pictures are available upon request.