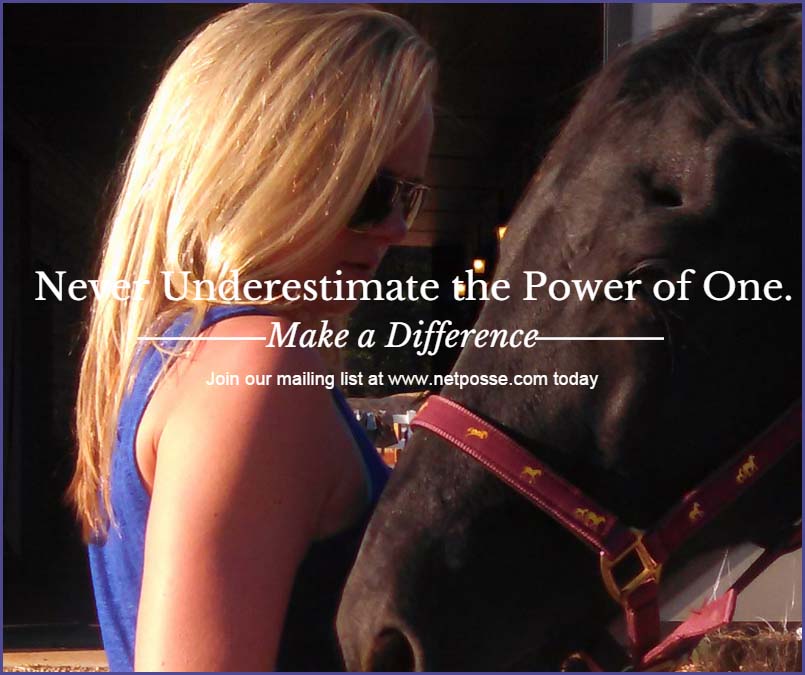 I've been pondering lately on what it is that makes a NetPosse.
It amazes me at the number of horses that come up missing, lost or stolen every day. And the criminal attacks against horses just boggles my mind. I think to myself how horrible for the horse(s) and the human(s) affected by this situation. And then my thoughts go to: "Boy I sure would hate it for the person that even would think of doing anything with one of my horses".
So you ask, "What Is a NetPosse?"
A "NetPosse" is an all-volunteer group of people who have joined together in a common love for horses and respect for each other. It is united by social media and the internet for the purpose of locating and recovering stolen, missing, or lost horses, dogs, livestock, tack (equipment), trailers, and other items that belong to other horse/farm owners. It works in conjunction with law enforcement, local media, broadcast media, print media, as well as the informal network of the equine community at large.
Well, after pondering what a NetPosse is, I then started wondering what our followers would say if we were to ask for feedback on why they think we stand out. Why is is that Stolen Horse International aka NetPosse.com is different than just posting a picture to Facebook or placing an ad on Craigslist about a horse that has gone missing or stolen. Here are some the responses I received:
The fact that your name gets others involved. It is an automatic to share the missing horse flyers, knowing exactly why they are coming across my page.
You have an active role in locating, not just passing a photo around.
You are like an Incident Command post through whom info is gathered, given, and procedures taken. Every search and rescue needs a home base.
You also aid those searching with the necessary steps that are key to recovery.
You contact the owners, law enforcement, brand inspector, media, etc.
Information is verified, kept private, and kept on NetPosse.com forever.
You have thousands of contacts and followers internationally.
You provide personal contact and support for victims
Facebook is Facebook…."Share it and forget it."
There are others? I haven't heard about any of them.
And the list goes on from there….
Thanks to the speed of the internet, NetPosse can round up a modern day version of a posse within minutes of filing a report. An alert and call to action goes out to a network of organizations, individuals, businesses, law enforcement and recovery specialists bent on returning your lost equine or property. Yes, you may have thousands of friends or be members of multiple groups on Facebook that you can share that post to but then what happens after that? Have the friends/groups that this post was made to actually had first-hand experience with searching for a stolen, missing or lost horse? Then there are those questions of was this a stolen horse, contract gone bad or civil matter. Well that is where Stolen Horse International aka NetPosse.com stands out above everything else.
Now spanning social media sites in Facebook, Twitter, Google+, Tumblr, Instagram, YouTube, LinkedIn and Pinterest, the NetPosse rides the internet like the lightning. Each contact for each ALERT is asked to do two things: 1. Reshare to their own network of contacts, and then 2. Print out the attached flyer and share copies of it everywhere they go to every place they can. We never know where that person will be who will see that information on any given day, so we encourage as much coverage as possible.
Does it work? Oh, yes. Just ask Idaho, Debi and Harold Metcalfe's horse that was stolen in 1997 from The Metcalfe's home and recovered 51 weeks later. She is the reason that Stolen Horse International aka NetPosse.com was founded. Click here to read more about Idaho: Idaho's Story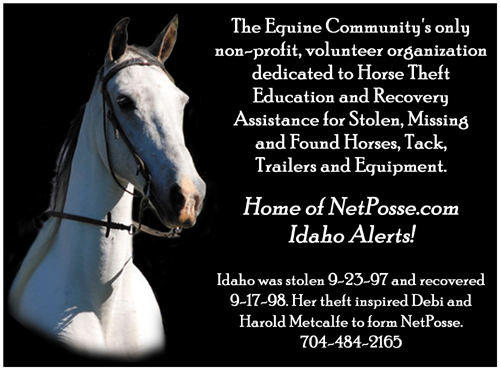 Please visit our website to join our NetPosse Alerts, Newsletter and Announcements and help our Volunteers to make a difference one horse at a time.
"Never doubt that a small group of thoughtful, committed citizens can change the world. Indeed, it's the only thing that ever has." - Margaret Mead
For more information on Stolen Horse International and its programs, visit the website at www.netposse.com. Stolen Horse International is a Section 501(c)(3) organization under the Internal Revenue Code. Contributions to it are tax-deductible as charitable contributions.
Article written by: Pam Miller - Core Volunteer/SC State Case Manager