Keep an eye on those horses-especially if you are letting them out to pasture at night. The tail and mane hair bandits are out there-and they will HURT horses to get what they want.
That's what Deb McEnery of Greene County, IN found out-she's been hit at least a couple of times. She had a young filly skewered with an arrow and left for dead after the hair was removed. The horse miraculously recovered.
Why do they do the dastardly deed? Money.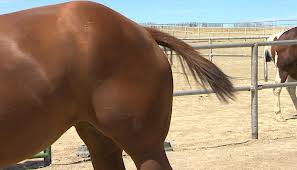 White horse hair, of course, fetches the most. It sells on eBay up to $230/pound. Why? It can be dyed almost any color. There is a premium for Arabian white -- it is used in the very finest of violin, cello, and other musical instrument bows. It's the ONLY material a bow maker will use in the high end market.
Most of the stuff on eBay comes from China and Mongolia where it is harvested from slaughterhouses and living animals on a regular basis. The problem lies in knowing what the source really was.
The other colors vary in price according to quality, but average around $79/pound. In order to be marketable, the hair must be at least 10-14 inches in length.
Of course, we object on a couple of grounds. First, the horses are harmed-either just becaue they will be pestered by insects unnecessarily or they are actually injured/killed/or worse-let out or stolen during the course of the theft. The welfare of the horses is paramount. Sure-the hair can grow back-but it is a slow process. Some horses are just really slow at it. In the meantime, they suffer for somebody's greed. The other problem is, of course-the person or person took what wasn't rightly theirs and trespassed in the process. We get more than a little riled over that.
What is it used for? Look at eBay for the answer-it isn't just the horse world of bridles, ropes, hobbles, and horse hair tassles. Aside from the music industry, it is used in pottery, jewelry, making sporrans, children's toys (think rocking horse), the crinolines that women wear use horsehair, furniture, shoes, brushes (art, grooming, hat, etc.), hats, etc.
Horse owners have been letting the horses use money to swat flies apparently. The thieves are just taking advantage of the fact that a money source is just hanging around out there.