Southeastern UK-Now this is just sneaky. Think about it-how does a thief know which horse to steal in the middle of the night in a pasture full of horses that all
look somewhat alike? All greys look pretty much the same, all bays are just dark horses, the blacks pretty much disappear, and you can forget finding the grullas-they turn invisible. But they know-so how do they do it?
Remember those nasty mane tangles you just hate? It's a variation on that. They braid (plait) the mane just a bit.
One more reason to get out and check on your horses!
Banbury, UK-Saddles, bridles, and other tack were found in a "bust" near Banbury, UK. From the looks of the photograph, the local authorities really got a haul of stolen items that they are trying to return to their rightful owners. This is really where the "rubber meets the road"-you cannot just go down and point to something and say "That's mine". The law enforcement people want proof in the form of hard evidence-bills of sale, photographs, microchips that are embedded, your name embossed, knowledge of something about the article that only the owner would know-something irrefutable. Otherwise, you could be stealing something that in reality belongs to someone else-and you are doing it in front of the police! (They just have no sense of humor about this.) http://www.banburyguardian.co.uk/news/local/haul-of-stolen-equestrian-goods-to-be-put-on-display-1-4662400
West Lothian, Scotland-Thousands of pounds (money, not weight) of saddles and other tack were stolen from the Easter Longridge Stable between 7:30 pm Friday

and 3 pm on Saturday. According to the owners, a fairly large vehicle would have been used to transport such a large theft of merchandise. (Stocking their own livery store perhaps?) http://news.stv.tv/scotland/209220-horse-saddles-worth-thousands-of-pounds-stolen-from-farms-stables/
Dixon, IL-Rita Crundwell entered guilty pleas on the federal charges against her-what is still pending is the local charges, and there are quite a few of them. Federal charges "go first" in the legal system, so now that those are getting cleared out of the way, she's facing some pretty irate local law enforcement.
So far, the city has recouped part of the lost monies by auctioning off the house, land, luxury RV, trailers, tack, and an extensive herd of AQHA horses. Some sales are still pending after starting last April.
How did all this happen? How did they find out? Probably the question everybody wants to know-WHY would anybody do such a thing? http://www.chicagotribune.com/news/local/breaking/chi-us-atorney-exdixon-comptroller-to-plead-guilty-20121113,0,227018.story
White Ash, IL-and probably quite a few other places. What are we talking about? HORSE HAIR THIEVES!
That's right! Have you got your horse's butt, er, back?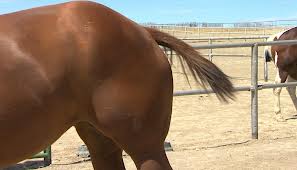 You know those nifty "sho-flies" some folks are dangling from cinches these days? Ever thought about

just exactly
where that horse hair came from? It didn't grow on trees, people. There's an awful lot of "sho-flies" out there-and hatbands, jewelry, reins, headstalls.....
http://www.kfvs12.com/story/20547685/theives-cut-tails-steal-horse-hair