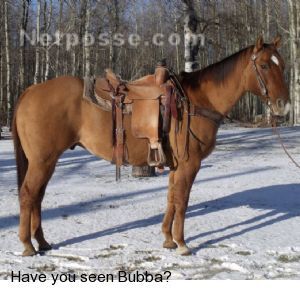 On January 19, 2012 Bubba, an eight year old Red-Dunn gelding quarter horse was stolen from a barn stall at the Horse Plaza in Hermiston, OR from Kale Peterson.
According to a Umatilla County Sheriff's office news release Bubba has been returned to his owner and two subjects were arrested ss a result of a Umatilla County Sheriff's Office investigation and assistance of the Stanfield Police Department.
Audrey Blade (19 yoa) and Kayla Kannard (20 yoa) were arrested and charged with this theft on February 28, 2012.
It was also discovered duing the investigation that approximately $30,000.00 worth of horse tack had been taken which incluced saddles, bridles and various other tack items.
The tack items were recovered and both subjects have been charged with theft.
Resource: Horse thieves arrested in Umatilla County, By Tyler Slauson, KEPRTV.com