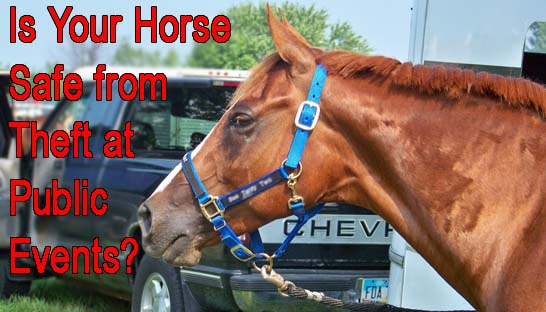 Troopers Search For Stolen Trailer Containing 15 Horses From Quarter Horse Congress
Share via Email, Facebook and more!
COLUMBUS, Ohio - Wednesday October 17, 2012 - Debi Metcalfe, founder of Stolen Horse International, aka NetPosse.com, has said many times that horse events provide one of the best opportunities for horses to disappear. There is often little information taken upon arrival that would help prevent a horse from being taken by the wrong person at check out, if and when there is a check out procedure.
Why? Because there is very little to no security at many horse shows. Most people involved with the event don't think "it" could happen to them just because they are "at an event". Participants think there is security to protect their horses; when, in fact, there is often little to no security at many horse shows.
Let's consider what goes on at a typical event-horse show, hunt meet, gymkhana, polo match. There are generally lots of people wandering about, horses just tied to trailers or in unlocked stalls with halters/leads left on doors, ribbons won prominently displayed, owners/trainers/riders off paying attention to something else, if the trailer is locked at all-which is seldom-the lock is flimsy, trailer hitch locks are very seldom used and easily defeated, and, really, nobody knows who is responsible for which horse, trailer, saddle, or anything else.
Throw in somebody who has a living quarter rig-and you can bet the barn that they have brought the electronic toys with them-and just rolling off with that can net a thief over $100,000 without even loading the horse or the tack. All anybody knows at the camp site is—somebody came and decided to move the rig. They didn't ask questions-why should they? Who is going to move something that size unless they've either been told to or they own it? Maybe somebody should start?!
Of the law enforcement officers we have spoken with at horse events, most knew very little about horses. Several admitted they would not know the difference between the owners of a horse or a thief taking a horse. Most said they would assume if an individual was leading the horse--it had to be their horse. After all, rational thought would seem to say "Who would come into a big event and have the nerve to take a horse trailer and a horse, much less 15 horses?"
Maybe someone did just that at the Quarter Horse Congress being held currently in Columbus, Ohio.
Ohio Highway Patrol troopers reported a trailer stolen from the Ohio State Fairgrounds at about 11:30 a.m. The Quarter Horse Congress holds a month long event at this location.
"It is not the first time I have heard of a horse being stolen from horse shows," says Metcalfe. "This does not surprise me at all. I have been expecting something like this to happen at this fairground because it does have so many horses there at one time. Horses are checked in by event officials, but how often are the horses checked properly when leaving to make sure they leave with the right people?"
The missing trailer had a Maine license plate at the time of the alleged theft. OHP says that the person was last seen getting on Interstate 71 South at 11th Avenue.

"We would be glad to help in the search for this trailer and horses," says Metcalfe. "I am wondering if the person who took the horses knows the person who owns the horses. Sometimes what one thinks is a theft turns out to be a civil matter or some other kind of mix up. It will be interesting to see how this one turns out. Perhaps this can be a wakeup call for event operators in the future."
COTH UPDATE: October 17, 2012 - http://www.equinechronicle.com/breaking-news/congress-press-clarifies-report-of-stolen-horses-from-show-grounds.html
---
RESOURCE: NEWS 10 Columbus, OH, http://www.10tv.com/content/stories/2012/10/17/columbus-horses-stolen-from-ohio-state-fairgrounds.html
NEWS 4 Columbus OH, http://www2.nbc4i.com/news/2012/oct/17/3/cpd-searching-truck-trailer-stolen-11-horses-ar-1208358/