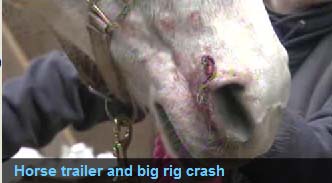 NetPosse Tip
A horrific wreck occured while this tranport company was hauling horses to their destinaton. In this case we are happy to report that the driver and owner of the transport company (according to news reports) is in the hospital and doing well. We are not searching for the owners of the horses as we feel sure they have been contacted.
Stolen Horse International would like to take a moment to wish Mr. Soward a speedy recovery. He is truly a miracle and you will know why when you watch the video below.
Your life can change in a moment just as it did for this driver and horses. It is stated in the news coverage that at the time of the accident no one knew who the horses belonged to and they were trying to find the owners.
If this happen and the driver could not talk and identify the owners how would the owners know what has happened to their horses? How would the people who are caring for the horses know who to contact?
When transporting your animals please have permanent identification such as a microchip that is traceable back to you. You can also put an ID band on their leg but keep in mind that can be removed.
Now for the story...
ROBBINSVILLE, N.J. - February 27, 2012 (WPVI) -- A grinding crash brought traffic to a standstill on the New Jersey Turnpike Monday morning. Two tractor-trailers and a pickup towing a horse trailer collided before dawn, trapping the pickup truck driver in the wreckage for hours.
The accident happened along the southbound lanes of the turnpike near Route 195 in Robbinsville, Mercer County.
Authorities have identified that driver as Anthony Soward, 43, of Willow Springs, Missouri of Trojan Horse Transport Company. He was flown to Capital Health Regional Medical Center in Trenton and was listed in good condition Monday afternoon.
Three horses and a donkey being hauled by the pickup are expected to survive as well. They were tossed around and slightly hurt due to the impact, but a veterinarian treating those animals says that they should recover.
"We don't know who any of the horses are. We don't know who any of their owners are. So, right now we're just going to try and take care of them and keep them comfortable and do what we can for them," explained horse rescuer Angie Haines.
Read full story here. http://abclocal.go.com/wpvi/story?section=news/local&id=8559530
Resource: Report by NORA MUCHANIC, 6 ABC News, NJ, http://abclocal.go.com/wpvi/story?section=news/local&id=8559530