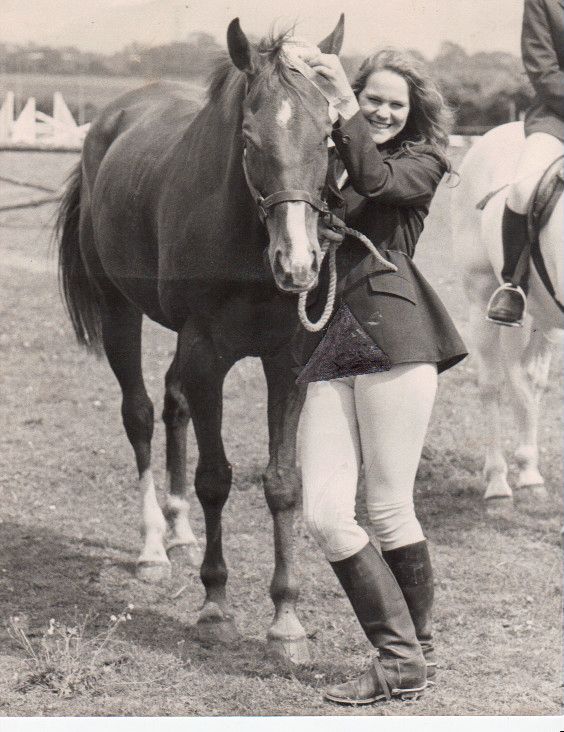 Ballymoss, Where is He?
England in the early 80's. In many ways, England is the home of the horse--the birth and development of the thoroughbred and horse racing as we know it, horse shows, fox hunting, and the gymkhanas that lured parents into buying their children ponies, horses, trailers and show clothes, either expensive and new or hand-me-downs. Horse lovers could leave their horses in a horse yard, England's term for America's paddocks or pastures, or backyard and feel safe, even if they padlocked the gates.

But, one day in March of 1981 the innocence came to a screeching halt. A theft ring operating in the North of England spread their shadows South, into the county of Hertfordshire and many lives and loves changed forever. It began, or continued, with the theft of a horse called Ballymoss,a family's prize show horse named after a famous race horse.

This is their story.
By Debbie Golding
with Pat Guthrie
If someone asked what has been the most defining aspect of my life, I would have to say:
- The day my horse was stolen.
My mother's greatest passion in life was horses, and I became a horse mad youngster. When I outgrew a wonderful first pony, I longed for a horse to ride, look after and cherish. My parents agreed, and after some searching, I fell in love with a ten year old, 16.2, thoroughbred, chestnut gelding, with a white star, nose snip and two white hind socks, named Ballymoss. He was The One--the horse for me. I thought him beautiful and elegant.
We'd an idyllic time caring for him, going to shows, growing in partnership and building a strong bond of love and trust. After training with a professional riding instructor, when she said how much we'd improved that was the greatest accolade anyone could have given me. I felt proud of our achievements.
Like most horse owners, we weren't without a few ups and downs. Ballymoss became lame on one of his front legs, which worried us. We didn't know his previous history, but someone pin-fired him on the back of both his front legs, and this together with his slim frame made us think he could have been an ex-racehorse. But, whenever he became sore, we always managed to make him sound. Making sure we kept him well fed, comfortable, healthy and happy was our first priority.
We were just an ordinary, hard working family, doing our best to care for our horses. Ballymoss became our pride and joy - the centre of our world..
All that changed on March 13, 1981.
We pastured Ballymoss in a yard on a secluded country lane in the countryside, with nobody on-site at night. The early Eighties was a more innocent time. We'd not heard of horses being stolen, and certainly not in our county of Hertfordshire, in the South East of England. Even so, padlocks locked the front gate and on all the heavy stable doors at night. We put Ballymoss, along with the other horses in the yard, in at night, and my father would drive by to check on them.
Unknown to us, the place was being watched. Someone knew our usual routines.
I will never forget when my mother flung open my bedroom door that morning with a strange panic in a raised voice, and said, "WAKE UP! THE HORSES HAVE BEEN STOLEN!"
The theft was announced first thing in my class the next morning. My mother tried to keep things as normal as possible, but I sat listening to everything in the classroom, unable to take anything in--I felt completely bewildered.
We notified the police immediately. We placed a notice of the stolen horses in the local paper, showing the broken locks and empty stables. During the following weeks my mother tried, with limited information available, to contact slaughterhouses and abattoirs. Our worst fear-- something we couldn't even contemplate.
And so our desperate search began. Where do you start? What do you do? At the time, no Horsewatch groups or Stolen Horse International type organisations existed to help and advise. Communication systems were far more limited then with no Internet or mobile phones. In advertising horses as stolen, would that endanger their chances of survival? Would they then become 'hot property'? What would the thieves do with our treasured animal?
His theft terrrified us, but we tried not to panic. He was in ruthless hands and it was unbearable to wonder if, whoever had him, would look after him properly and not harm him.
We had to find Ballymoss - where was he? He was not a sturdy type, his condition would have deteriorated fast without water and decent feed.
Stolen Horse International (NetPosse.com)
"I was aware of Stolen Horse International, Inc. or SHI, and had thought of writing to its founder, Debi Metcalfe, to relay my experience. Fortuntely, Debi contacted me first (after seeing my messages on a horse forum) and I had a great sense of relief when someone finally told me, "I understand what you have been through" and "you are not alone in your experience." Having been a victim of horsetheft herself and having worked with other victims, Debi said she knew of the emotional impact it has on a family. I can see what an enormous help Debi is to horse owners in America and elsewhere, who may have the same misfortune . SHI is the first port of call. Someone can advise, support and help families to restore their horse or pony." - Debbie Golding
It's hard to describe the feelings of despair and helplessness in circumstances like these--we were powerless to protect him. In desperation, my mother even contacted a few psychics to see if they felt him still alive, which they did. Looking back I can also see, as a family, the shock in every member's face. Time and again, when I have seen stolen horse messages, I see the words 'owners distraught'. That described us.
Within a week, the three other horses stolen with Ballymoss, but who had recently been freezemarked were dumped in a field in Malmesbury, Wiltshire, a county nearly one hundred miles away--but not Ballymoss.
My mother decided against freezemarking him, an up and coming practice, not the established and proven deterrent it is today. Even though the other horse owners went through a week of this terrible ordeal, they were extremely lucky. They had their horses back. In fact, years later, one of these owners told me the experience traumatised her.
The Search
In the following weeks and months after Ballymoss's theft, we went to as many horse markets, sales and horse fairs as our limited time and finances would allow. At the horse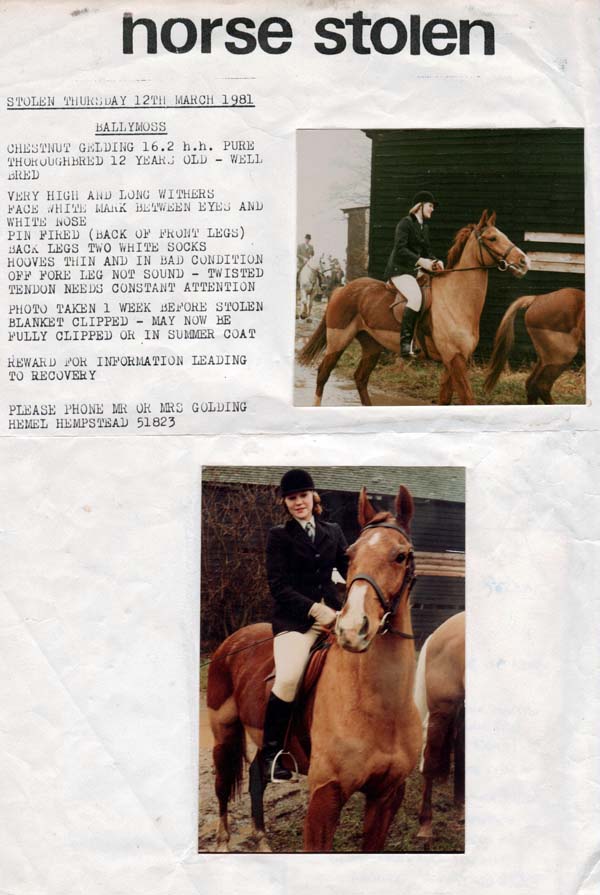 "Perhaps my mother was a little ahead of her time campaigning for horse ownership legislation after Ballymoss was stolen," says Debbie Golding
Click here to see larger flyer
sales, my mother gave the auctioneers flyers and other details, in case he went through the auction ring. We spoke to others at the auctions with a mixture of responses. Most acted kind but others seemed dismissive and unhelpful. Horse sales can be a harsh reality-- most owners would never want their beloved animals to go through so many dealer's hands, their future uncertain.
Sometimes, even now, I occasionally get flashbacks. I remember travelling with my parents, during the first school holiday after Ballymoss had been stolen, to a distant horse market, with a small glimmer of hope maybe this would be the day we found him, or which gave us a miraculous breakthrough which could help us find him. But then travelling home, with feelings of emptiness and despair, I gave my mother a hug from the backseat. She remained silent and just stared at the road, devoid of any emotion.
We waited for over a month before putting his details in the Horse and Hound, Britain's top selling horse magazine and then later in other equine publications. We didn't want to jeopardise his chances of survival, if the thieves still had him and saw the publicity. Whoever had taken Ballymoss may have been hiding him for a while before trying to sell him, holding out for more money. Sadly, many sell their unwanted horses to the meat trade for low prices if they're not sellable at markets. We didn't know the best course of action. I recall my mother saying a number of times she just wanted to know whether he was dead or alive.
Being younger, I couldn't really intellectualise , but a sensible, school friend told me she thought the horses must have been 'stolen to order', a phrase we heard a number of times. Trust became an issue. We had a few ideas and theories of who took him, but nothing certain. Whoever had taken him and the three other horses knew wht they were doing - it was organized.
Around this time my father, a polite and mild mannered gentleman, even resorted to approaching a rough man of dubious character, who lived in the back of a horse box down the lane, to ask if he knew anything. This man used to hang around local horse shows and markets. We felt he could have been the middle man. He always seemed to be out of the area when anything untoward happened. My father politely said to him there would be no questions asked, and we would not involve the police. We wanted the recovery of our horse and to pay if necessary-- not an adviseable course of action, but we were desperate. This man seemed flustered when asked, but denied any knowledge. We later learned in the 1990s, this person of interest served a prison sentence for different crime-related offences. We'd not been off target in our perception of this person.
We offered a genuine reward for Ballymoss but unfortunately we also received some hoax calls. One anonymous caller inferred he had Ballymoss. We borrowed money to get a ransom ready. We thought the callers could have been the initial thieves. We asked them for proof if we were to negotiate further. They made no more contact. How wrong was this anyway, preparing what amounted to a ransom to get our own horse back?
Our trust and faith in human decency took a severe blow when Ballymoss was stolen, and with the undertones of dealing with unscrupulous, faceless rogues was disturbing and almost sinister at times.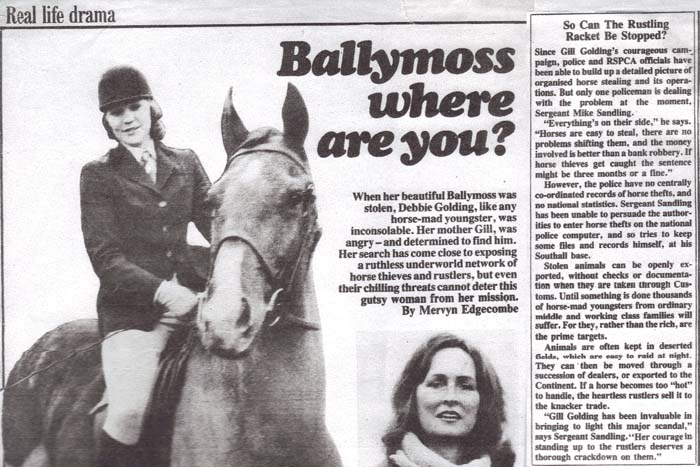 During these initial stages of our search, a Sergeant Sandling of Southall Police, a station based near London helped us. He seemed to be the only police officer in the South of England who dealt with equine theft. We learned of many other stolen horses , mainly from the North of England. Sergeant Sandling thought Ballymoss's distinct markings could help identify him, and as Ballymoss was a good looking animal he might be sold to a good home. He said he knew of missing horses found over five or even ten years later.
Ballymoss would occasionally go lame on one of his front legs. He was sound when they stole him, but what would happen if he went lame? This led to overwhelming feelings of powerlessness. What would they do with a lame horse? Time is not usually on your side in these matters.
My mother, being a helpful type of person, tried to assist any other people who had their horse or pony stolen. She distributend not only Ballymoss's details, but theirs as well. This started a sense of comraderie. One of the owners said she didn't know how she would tell her youngest daughter their pet pony was missing These owners, like us, knew how heartbreaking the theft of their animal could be.
More Heartbreak Followed
One or two months after Ballymoss was stolen,we learned my beloved first pony, Laddie, who we loaned out, died of a heart attack while in his paddock.
We couldn't even cry or grieve about our special pony's loss, we were so upset about Ballymoss and the anguish of not knowing what happened to him. We disregarded our pony's death, because we were numb of normal reactions to a sad but natural loss. The not knowing was far worse. And so I will never forget hearing my mother's reply about the news of the unexpected death of our pony -
"That's alright, at least we know what has happened to him."
A Moment of Hope
About three months into our search, an equine artist who had been sketching horses at a sale in Shrewsbury, Shropshire, a county bordering Wales, contacted us concerning our flyer. Having seen his photo, she was sure she had sketched him at the sale. My mother went to meet the artist who said this horse had been trotted up and down outside the auction ring (it was, and still is, common practice to sell horses outside the ring to get a quick sale.) When we saw the sketch we were certain it was Ballymoss. In the sketch, a young woman was riding the horse, but the artist didn't know if she rode the horse for herself or show him to potential buyers. The artist didn't know the three men who dealt with the horse or if he had already been sold, so we couldn't follow up. We continued to carry on our search and hope.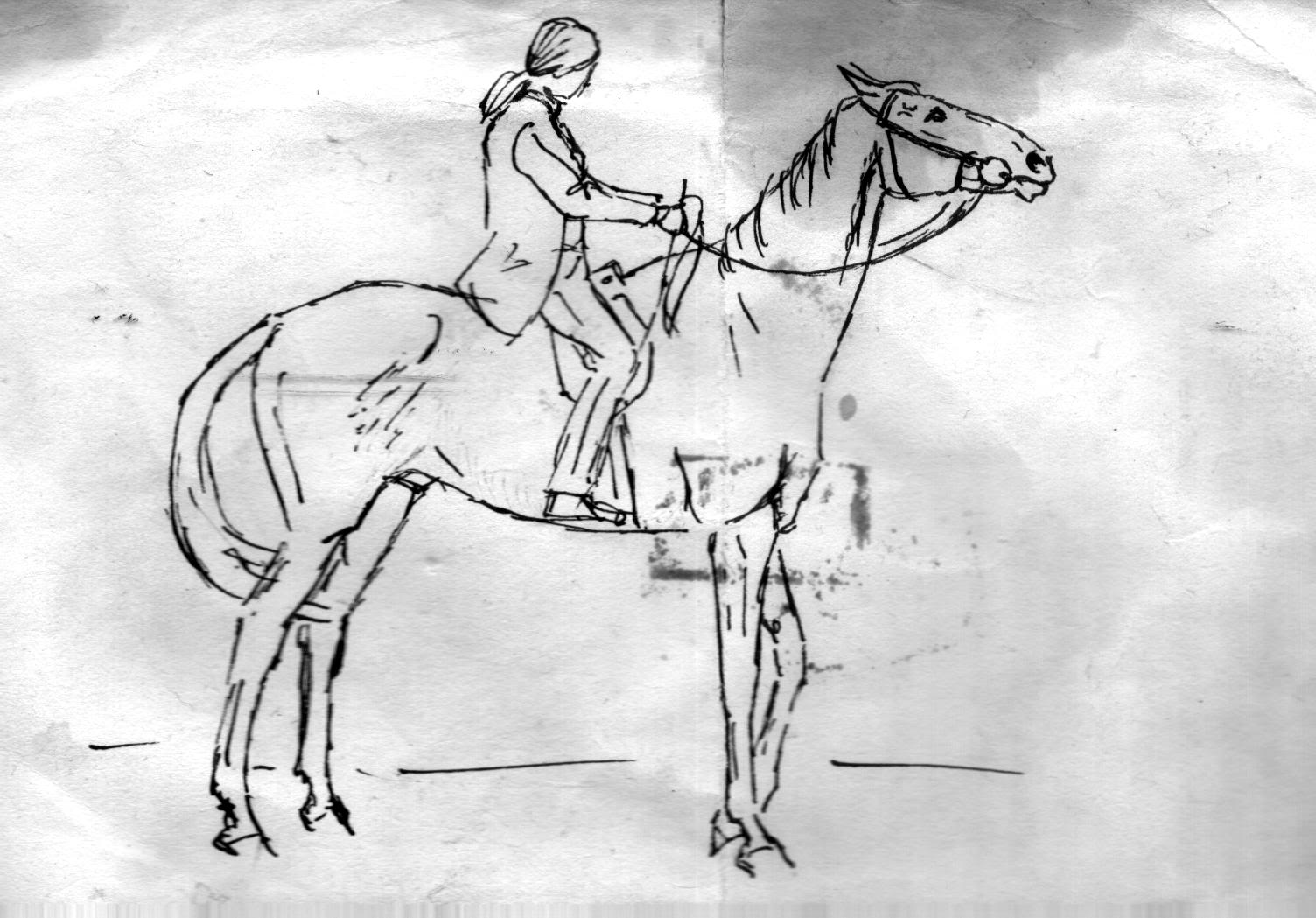 One Woman Campaign
As with most injustices, my mother began campaigning. She wrote to the Government to highlight the problems of horsetheft and the lack of legal documentation proving rightful ownership. She felt all horses should be properly licensed and registered making it compulsory to have relevant papers when sold, exported or slaughtered. Perhaps my mother was a little ahead of her time. It wasn't until 2004/2005 all horses, ponies and donkeys in the UK were legally required to have a passport. Further regulations now insist owners have their equine microchipped before applying for a passport to strengthen identification and further safegard horses from theft.
During this time, due to my mother contacting the Government, we received a letter from the Queen's Secretary, commenting, "Her Majesty was aware of the tragic theft of Ballymoss, and understood very well, as a horse lover herself, the distress of our family and hoped we would be successful in our search for him." Although grateful for this note, we found this no real consolation, but at least, some form of recognition. For us, finding Ballymoss would have been the greatest relief and would have restored our lives back to normal.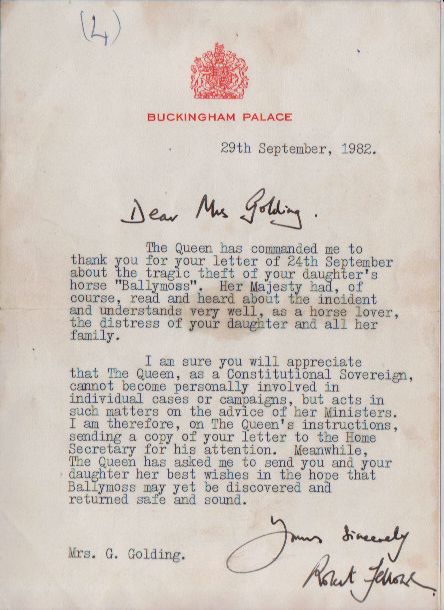 Help, Encouragement (and Disillusionment)
A few kind, well meaning people, who thought they had seen a horse, or knew of one like him, contacted us. We checked each call, but the horses we saw were never him. Disappointment always followed an unsuccessful lead.
A BBC Radio 4 programme called Checkpoint, with a prominent investigative journalist, Roger Cook, interviewed us. He later did a well known British TV series in the 1990s called the Cook Report which investigated criminal activity. I remember being interviewed about our experience of horsetheft. My naive and basic teenage reportoire consisted of, "Mossy was lovely and gentle. He would always walk up to me in the field when I went to bring him in." But at least the programme highlighted awareness of horsetheft and our search for Ballymoss.
Non-horsey people who we knew would kindly enquire about our progress, but we always answered, 'No we haven't found him yet'. Grateful for their interest, we understood they weren't dismissing our sadness.
A national newspaper printed our story about a year later. It seemed like a great opportunity for coverage . We sent his photo to the editorial department. They published the story, but didn't include his photo.We think the department decided we wanted free publicity. That wouldn't happen these days - the photo would be included with the story. Whoever made that decision, I think would have printed a photo had it been a member of their own family. Our hopes had been dashed and luck didn't seem to be on our side.
A Famous Racehorse is Kidnapped
In early 1983 the world-famous racehorse Shergar was kidnapped.The story made international headlines. The abduction was and still is notorious. The kidnappers failed to anticipate the reaction of the people of Ireland - a horse-loving nation - to Shergar's abduction. Although certain theories remain, mystery still surrounds what actually happened to him, and those who knew him mourned the loss of such a great horse. Even so, no one paid ransom, nor was he ever found. Not only was it upsetting to hear about an international star used this way, it compounded our fears for Ballymoss.
Was Ballymoss in Oxfordshire?
Towards 1984 my mother got a call, which she believed to be genuine, from a woman with a northern English accent. This woman said she had been looking after him, but the owners moved him. My mother verified several details about the horse with the caller. The woman could not give her name or who had him, as this would have exposed her identity. The caller seemed reliable, not someone who played a cruel hoax. Someone with a conscience. After that we advertised Ballymoss once more in the Horse and Hound magazine stating we believed him to be in the Oxfordshire area. But nothing came from the advert.
Fading Search
I would say within a few years the practical searches at horse markets and auctions had almost stopped. Lack of time and insufficient funds proved too difficult to facilitate days of searching, although we still advertised in different equine publications. By about the fifth year We'd come to a brick wall, and there was no-one to advise us what to do next.
Behind the scenes, however, my mother always tried to find ways to recover Ballymoss. By about 1987 she wanted to write a book entitled 'Ballymoss, Where Are You?' and tried to set that in motion, producing a first draft, although the book never came to fruition. Telling this story now is for my mother as well.
'Moving On' But Never, Ever Forgetting
People deal and cope with tragedy in different ways, but we tried not to let ours take over our lives. We'd carry on. As we missed the everyday involvement of owning a horse, and we wanted to get back to some sense of reality, we bought another one. But he never replaced Ballymoss.
I went to college, concentrated on academic work and started my first job. I eventually gave up owning a horse for about four years after losing Ballymoss. I worked and travelled abroad, had positive experiences and met good people.
By 1988 my mother had adopted a lovely racehorse who had an uncertain future. He had sustained a foot injury, and she helped get him better. Mom kept this ex-racehorse for more than ten years, and he brought her lots of happiness. She even helped get him back on the race track at one stage.
So, as an older teenager and subsequent young person, I had then moved on and concentrated on other areas of life glossing over our loss of Ballymoss for an amount of years. I suppose, subconsciously I shut it away as some sort of survival instinct.
By the 1990s, I rarely ever mentioned Ballymoss. Eventually, I told a new friend of mine, after we'd revealed our fondness for horses. Sometime later I told my friend I would not be able to renew a search for my horse, because if I locaated him it would be unbearable to see him old and frail after all the years of life we missed together. Silly now, I would give anything to have found him, even in his old age.
Even earlier on, in the mid Eighties, it wasn't information I knew how to disclose. I don't recall mentioning it to new friends and acquaintances or people I met. Perhaps I was too young to comprehend the emotional effects, and I guess I thought no-one would understand or be able to identify with it, so it was best left unmentioned.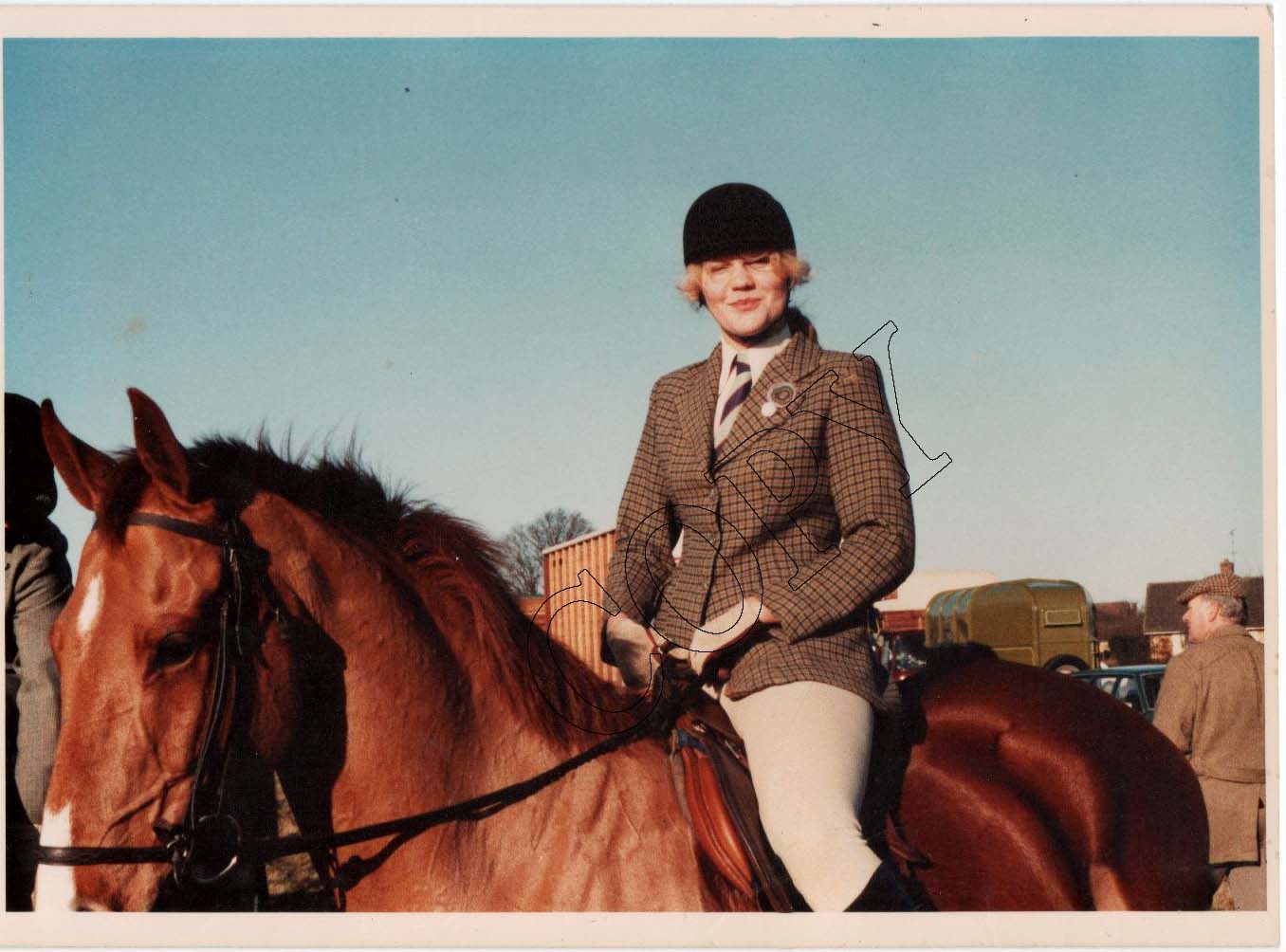 Perhaps my mother was a little ahead of her time campaigning for horse ownership legislation after Ballymoss was stolen.


"Heaven can no heaven be, if my horse is not waiting there for me."
Of course, the loss of Ballymoss never left us. We never forgot the possibility he could still be alive. This sustained hope in our hearts, but it had become too painful for even my mother and I to speak to one another about it- perhaps it dug too deep. We referred to the theft to others only when a relevant subject arose in conversation.
My Mother's Crusade
However, with the sad loss of my mother in 2003, who tried so hard to search for him had to unwillingly give up in the end. But, all the pain about Ballymoss resurfaced when I found the folder she kept.
All my mother's efforts to find him, the newspaper articles with headings 'Stolen Gelding Still Missing' and all the campaign letters with photos to the Government overwhelmed me all over again. Being older, I finally realized we'd never found Ballymoss and maybe would never find out what happened to him. In one article my mother said it was like losing a child. Now my mother was gone with this so unresolved in her life. But I don't think many people understood . It's only my own private feelings, but I believe my mother's spirit in life somewhat broken by 'Ballymoss being stolen and never being able to find him