5 Days Western Caribbean from New Orleans, LA
Carnival Valor - Cozumel Plus
Jan 28, 2023 - Feb 2, 2023
Sat - Thu
Click here to watch HORSE LOVERS SUMMIT CRUISE REVIEW MOVIE

Itinerary
Click here to view our itinerary. Ports of call: (Land days!) Cozumel and Costa Maya, MX. DO NOT BOOK online. You must book through our vacation planner, Jose.

Thank you for your interest in the 2023 Horse Lovers Summit on the Sea.
January 28 (Saturday_ through January February 2 (Thursday). We know you may have questions and are here to guide you through the process. As a group, we have secured the best prices, seminars, and lots of fun just for you!

Guest must book through our Carnival vacation planner for inclusion in the group.

Contact Jose here: Carnival Cruise Line, 1 (800) 819-3902 ext. 82638 Give Jose the name of the group, which is the Horse Lovers Summit 2023, and our group booking number T42MR0.

IMPORTANT BOOKING NOTICE: There will be an additional fee charged to attend our seminars and activities for people who do not book into our group with Jose. To avoid this fee you must contact Jose and secure your cabin with him to join our group, get our perks, be eligible for door prizes and participate in our group seminars. If you have any questions, email debi@netposse.com and put Horse Lovers Summit in the subject line.

Make sure Jose adds you to the 6 PM main dining room so Carnival can allow you to sit with our Horse Lovers Summit group. You do not want to miss this special time spent with group members.

Group Perks
As part of our group, you will get a $50 per cabin onboard credit, a shared cocktail party, private entertainment, and educational seminars on sea days. A non-member must pay an activity fee of $75 to join the group. November 1, 2022, is the deadline for the payment.

Horse Lovers Summit Guest Speakers
Marty Adams, David Spears, Doug Sloan, Randi Thompson, and Debi Metcalfe.
Others to be announced

Want to speak at the 2023 event? Fill out this form: Speaker Interest Form.

2023 HORSE LOVERS SUMMIT ON THE SEA 2023 - INTEREST FORM

All information is for internal use only. Important Note: Don't forget to give us the link to your PROFILE page. There are many people with the same names and we want to make sure we invite the right person to our group.

Our first Horse Lovers Summit was in 2020. We had so much fun together that we decided to cruise again in 2021. That was when the Covid pandemic changed our world. CCL postponed our trip until January 2022. We had a wonderfully fantastic time on both, far beyond our expectations. We hope to see you in 2023!
Horse Lovers Summit 2023 Facebook Page
You can join our Facebook page. Horse Lovers Summit on the Sea 2023 at https://www.facebook.com/horseloverssummit.
Horse Lovers Summit Private Group
https://www.facebook.com/groups/horseloverssummit
Cruise Information
Ship: Carnival Valor.
Sail dates: January 28th - February 2th, 2023
Home Port: (Where we get on and off the ship) New Orleans, LA
Meet and Greet Before We Cruise

There will be time for you to visit New Orleans after the cruise if want to extend your vacation.
We will be announcing our host hotel soon.

More Questions?
Click Contact Us on this site or debi@netposse.com

IMPORTANT NOTE: Due to the pandemic and the ever-changing restrictions and guidelines, we are going with the flow per Carnival guidelines and protocols. Hopefully, by 2023 things will be different than they are now with restrictions. However, we enjoyed fewer people on the cleanest ship ever in 2022.

*The rates posted in the artwork at the top of the page represent the cost on the day we updated this webpage. The rates can be different over time.



This will be our home away from home for five fun-filled days! CLICK HERE to get to know the Carnival Valor


Details at a Glance
Sailing Date: January 28, 2023


Ship: Carnival Valor




Port: New Orleans




Nights: 5





For Early Arrivers on January 27th:




Group Hotel Rates and Group dinner



Welcome Aboard!


Activities \ Group dining \ Seminars \ Group games




Drawings at seminars



Itinerary



Day 1 - New Orleans / Departure 3:30




Day 2 - Seminars and Fun Day at Sea




Day 3 - Costa Maya




Day 4 - Cozumel




Day 5 - Seminars and Fund Day at Sea




Day 6 - Arrive in port at 8. am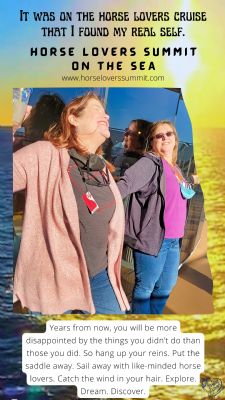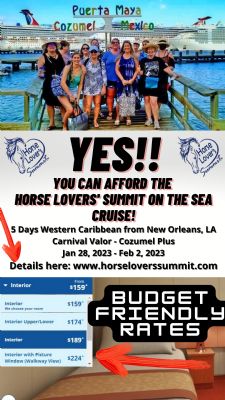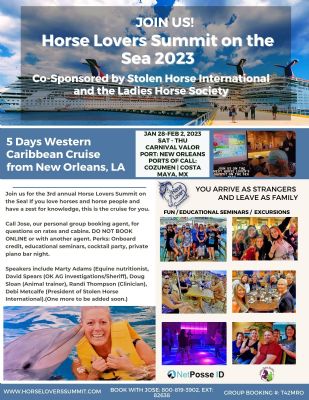 *The rates posted in the artwork at the top of the page represent the cost on the day we updated this webpage. The rates can be different over time.
Book early to save money.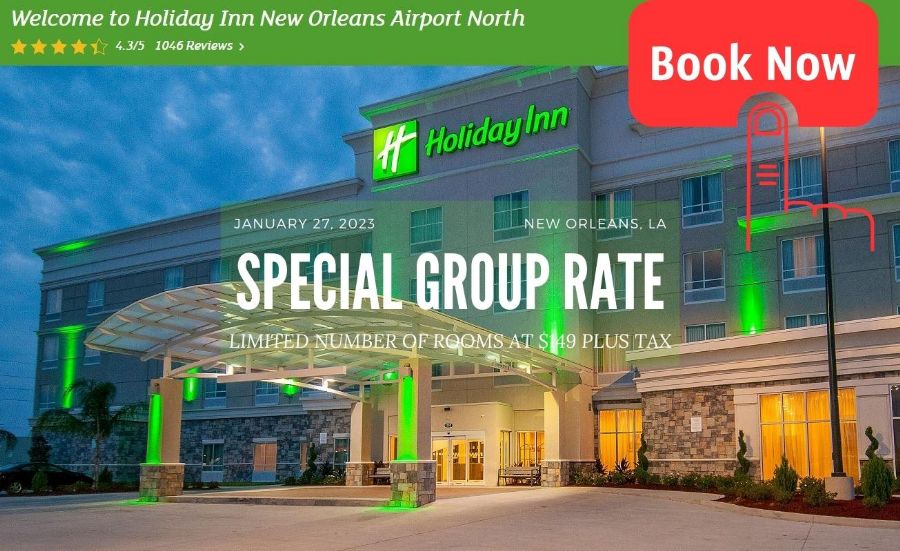 Click the image to book your special rate online for January 27th, 2023
Use the HORSE LOVERS SUMMIT group name if you call the hotel directly.

TELL YOUR FRIENDS!
To go to www.horseloverssummit.com