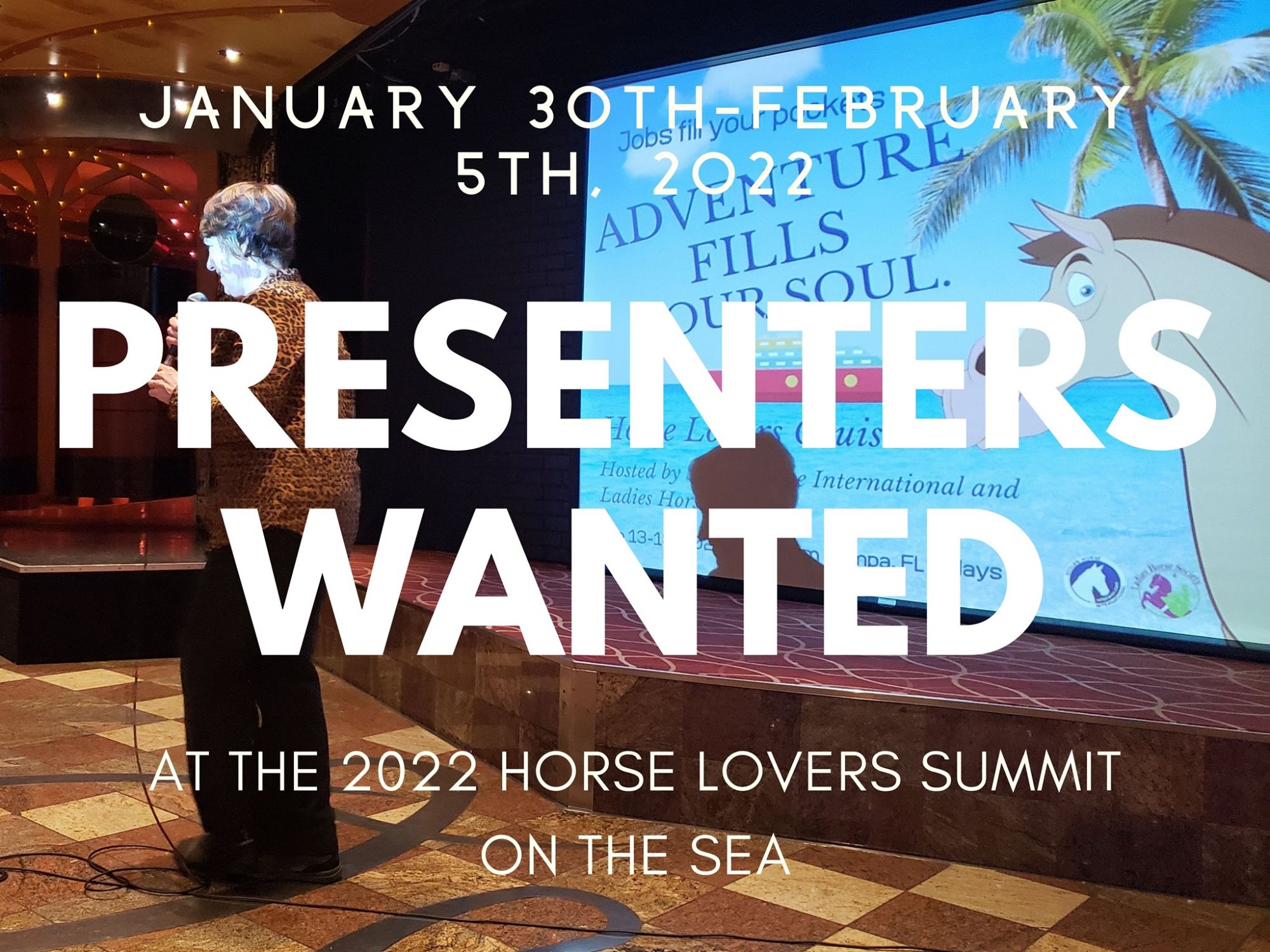 INTERESTED IN BEING A PRESENTER:
If you are interested in being a speaker on the cruise please continue reading.
Scroll down and fill out the speaker form below.

INTERESTED IN BEING A GUEST
: If you are interested in taking part in the cruise as a guest, you need to fill out this short
interest form.

We are seeking industry experts to present equine-related topics that
meet the current interests and needs of horse enthusiasts of all breeds
and disciplines. The opportunity to participate as a presenter at our event offers
many advantages, particularly to presenters who are exhibitors. Consider the
following . . .


PRESENTER ADVANTAGES

POTENTIAL TOPICS


The basic requirements for all seminar presentations are
simple:

The presentation topic must be interesting, specific, and unique. A new or creative approach to an age-old topic is also appreciated.
The presentation must be well thought out and fully developed.
The presentation must be topic-driven rather than product-driven. No sales pitches are allowed. Speakers can meet with those who are interested in what they have to offer during the cruise.
The presentation must be educational in nature; not serve as an endorsement or advertisement for any product or service.
The presentation title must be creative and interesting.
PRESENTER QUALIFICATIONS
Presenters featured at the event must be:

We will be photographing the speakers. Please dress like a professional speaker. No shorts or hats.


2022 HORSE LOVERS SUMMIT APPLICATION PROCESS


If you are interested in sharing your expertise at the 2022 Horse Lovers Summit please
complete the attached Presenter Application and return it with the requested
materials to the Horse Lovers Summit Directors for review. Presentations are
selected on the basis of their quality, relevance, uniqueness, and how they fit into
the overall program being planned for each exposition. The Horse Lovers Summit
Directors will contact applicants regarding their participation in an event. While we
are not able to feature everyone who wishes to be a presenter at the Horse Lovers Summit, we
do retain the names of potential speakers in a database for consideration for future events.
It is important to note that the Horse Lovers Summit schedules are finalized six to nine
months prior to the event date. Time limitations, topic repetition and quality of presentation are major considerations in presenter selection.


Each speaker will be presenting their topic for 45 minutes.