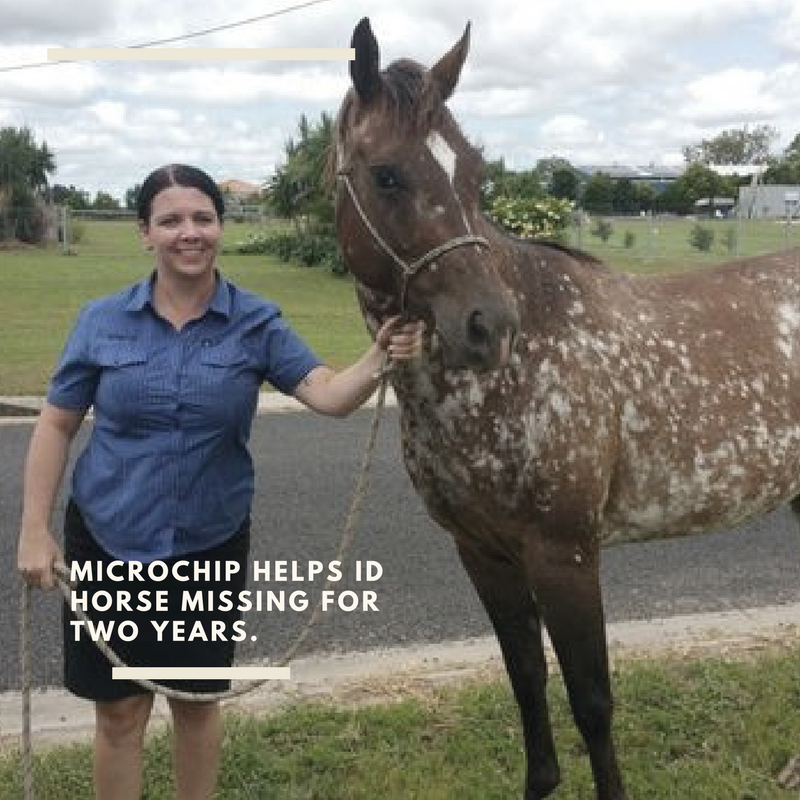 Detectives from Mareeba Stock and Rural Crime Investigation Squad (SARCIS) recovered a stolen horse last week. What is unusual about this event is that the horse had been missing from the Tablelands for over two years!
The Appaloosa mare went missing from Wondecia, Australia, in the beginning of 2015. Her owner asked everyone on social media to keep an eye out for her. Beginning to think maybe the horse had succumbed to a snake bite and would not be found alive, Rebecca Magro began to lose hope.
Rebecca decided to try one more time with one final pleas on social media which resulted in a private message about her horse. She then took the information to SARCIS along with photographs to help identify her mare.
Constable Hinchcliffe says, "It was extremely helpful that the owner took proactive steps and photographed and microchipped her horses. This greatly assisted our investigations."
Constable Michael Hinchcliffe stated that the team was very happy that they could reunite this horse with Rebecca.
At Stolen Horse International, Inc.™, we found more about this story very interesting. For years now we have been encouraging people to microchip their horses so they will have a VIN number in them wherever they go. This helps prove ownership.
Unfortunately most people do not think "it" will ever happen to them so they do nothing. We can promise you that we have never had a victim who has found their horse and is trying to prove ownerships say, "I am so glad I didn't do anything to protect my horse and help me prove ownership." Instead we hear, "I wish I had thought ahead and done something to identify my horse. I just never thought this would happen to me."
MICROCHIPS MAKE A DIFFERENCE
SARCIS detectives are encouraging animal owners to not only invest their time in taking photos of their animals, but also to have their animals microchipped which assisted in confirming that this was a stolen horse.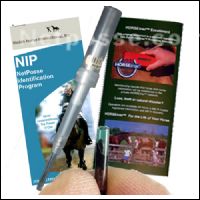 C
lick image to purchase chip kits.
Proceeds
support this charitable
organization,
Stolen Horse
International,Inc.™.
We agree with them and hope you will take the time to get your horse microchipped so you too have a way to prove ownership like Rebecca did. You can purchase microchip kits in our NetPosse Store. Here is a link to our kits which feature both the US Standard and International frequencies and two companies. https://netposse.com/store.asp?cat=Microchips
Keep in mind that if you are showing with USEF or going out of the country with your horse then the International 134 KHz frequency will be needed. Note that this frequency may not be read by the old universal microchips still being used today. If a microchip has 15 characters then it is an International microchip.
If you are like most of us in the USA and never plan on showing with USEF/FEI show, have no requirements for you to purchase the International microchip and do not plan on going out of the country then the US Standard 125 KHz microchip may be a better choice. All universal scanners, new and old, can read this microchip. For most of us this frequency is a better choice for all of our animals.
HOPE
We would like to thank all of the people who helped provide the breakthrough in the case of Rebecca's stolen horse. We would like to encourage everyone with stolen or missing horses to contact law enforcement first and Stolen Horse International, aka NetPosse.com second so we can assist the police in their search.
Often if a horse is not found within a few weeks the public gives up hope and thinks it is not possible to find a missing horse. We never give up here at Stolen Horse International. We know from 20 years of experience and multiple horses found years after a theft that if a horse is still alive it still has a chance to be found.
We are here for our victims months and years after the horse disappears. We never give up hope!
You can report information about to Stolen Horse International, a registered charity and community volunteer organization, via www.netposse.com 24hrs per day.
You can also message us on our Facebook Page, Stolen Horse International, Inc., aka NetPosse.com at this link. https://www.facebook.com/StolenHorseInternationalNetPosse
RESOURCE: Senior Constable Aleda Day on Feb 22, 2017, myPolice Far North, http://mypolice.qld.gov.au/farnorth/2017/02/22/horse-reunited-owner-two-years-theft/
STOLEN HORSE FOUND 10 YEARS AFTER THEFT BY STOLEN HORSE INTERNATIONAL
We though you'd like to know how it feels to find a horse that has been missing from a victim. Watch this video, currently with 99,236 views, and you will feel why we do what we do. We promise you chills and goosebumps.
YouTube link: https://www.youtube.com/watch?v=mJpFYKagVRk&t=29s
Subscribe to our Stolen Horse International YouTube channel here: https://www.youtube.com/channel/UC5208zkaDUONjRGn0kSE6eg