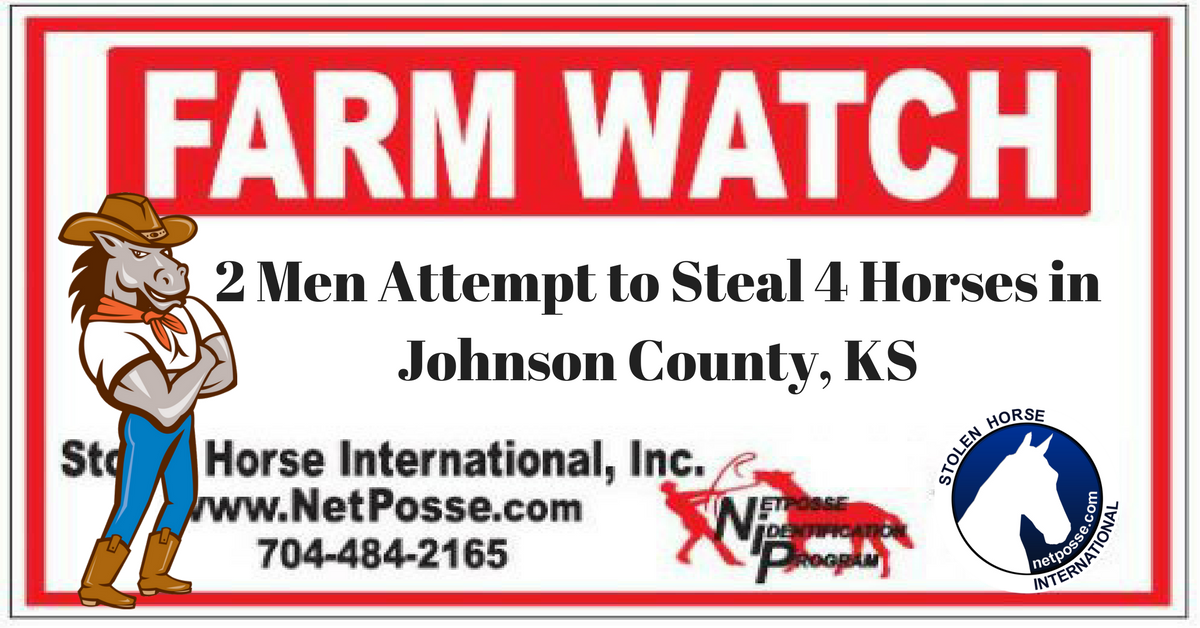 NetPosse Farm Watch Alert in Kansas
You can purchase a Farm Watch Sign in the
NetPosse Store. Click here. All proceeds
support this 501(c)(3) nonprofit organization.
JOHNSON COUNTY, KS (KCTV) - According to KCTV5.com, Park police in Johnson County are investigating the attempted theft of four horses at the White Fox Stables on Saturday, January 14th, 2017. Even though this was a few weeks ago we want to remind you to keep your eyes open for yourself and your neighbors.
The onsite caretaker was awaken at 12:30 a.m. to the sound of a truck and trailer coming down the driveway.
Before the thieves could enter the stable the caretaker confronted them, asking why they were there. Their response was that they were there to get four horses under the authorization of a certain person, which was immediately found to be a lie.
Suspect descriptions are for two white males between 40 and 50 years old. One was tall and thin and the other had a full beard.
They were driving a white 2005 or 2006 Dodge four-door dually truck with a white, gooseneck horse trailer that had four slant stalls with a design on the side that started with a black or blue line and ended in two ridges, like the shape of an "M.
If you know where these two men are, have seen the truck and trailer, or know of any horse thefts similar to this attempted theft, contact Officer Josiah Gould at 913-438-7275.
RESOURCE: KCTV 5, article by Zoe Brown, http://www.kctv5.com/story/34309282/2-men-attempt-to-steal-4-horses-in-johnson-county
#farmwatch, #horsetheft, #netpossealert, #stolenhorseinternational, #netposse