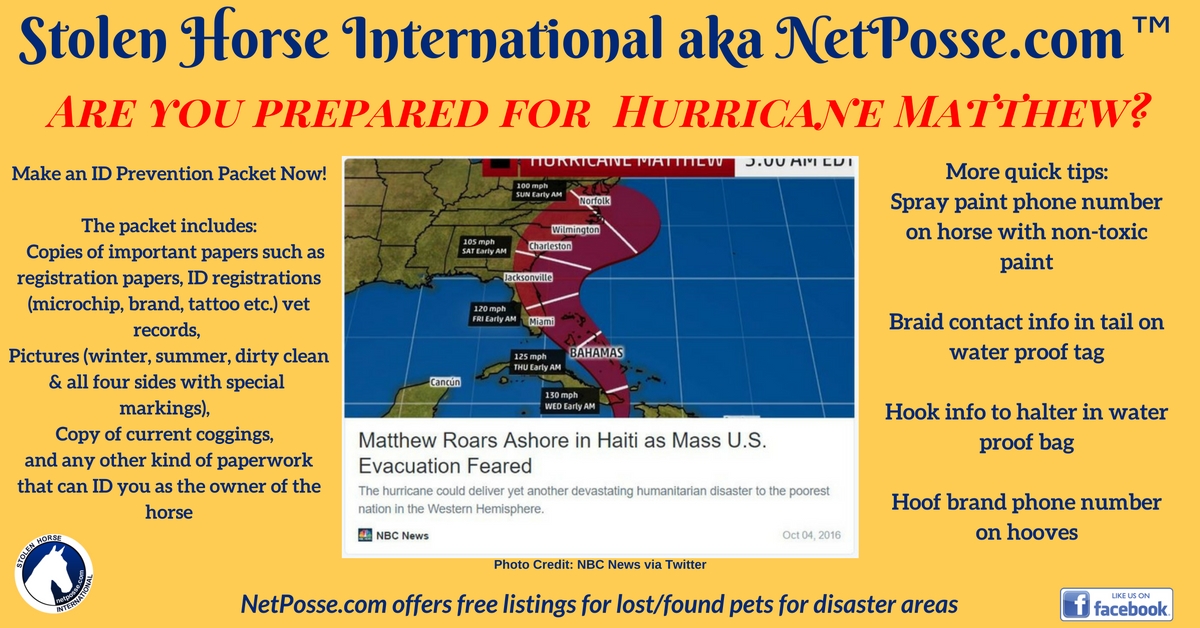 It is hurricane season which means potential flooding and evacuations. Stolen Horse International aka Netposse.com™ recommends being prepared ahead of time for the potential need to evacuate due to a disaster.
NetPosse.com is here to help all disaster victims! If you are missing horses or other animals in the floods/hurricanes or other major disasters you can list them for free on www.netposse.com. Disasters examples are fires, floods, hurricanes, tornado,earthquake, etc.
To get started Register for an account and click on My Account after logged in. Once you have done that, please click on the type of animal you need to list (i.e. "My Equines" for horses, mules, donkeys, etc., and "My Animals" for all other animals. Then click on "Reports" and "File a Report" completing all the information requested.
Horses are to be filed under MISSING LOST report (All fees are waived. Skip payment page by clicking SUBMIT button)
All other animals are to be filed under DISASTER reports.
Click here for NetPosse.com One Minute Disaster Tips
State posted for updates on evacuations and assistance for transport/facilities to care for your horses during the storm on our Facebook page: https://www.facebook.com/StolenHorseInternationalNetPosse/