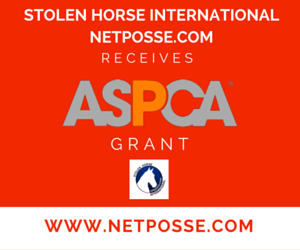 ....
STOLEN HORSE INTERNATIONAL, INC.
PRESS RELEASE – FOR IMMEDIATE RELEASE
For more information, contact: Stolen Horse International
833-414-6773 / Email: ellen@netposse.com
Stolen Horse International Recipient of ASPCA Equine Groups Grant.
Shelby (Cleveland County), NC - On February 15, 2016, the American Society for the Prevention of Cruelty to Animals (ASPCA) notified Stolen Horse International, Inc. of Shelby, NC that they were one of the recipients of the Fundraising Educational Packet for Equine Groups Grants valued at $500.
This grant will enable volunteer personnel to access educational events and online training resources that would otherwise be unavailable to the organization. Founder and President Debi Metcalfe stated: "We hope to utilize these resources well in the coming few months in order to strengthen our fundraising program. This is a welcome addition to our knowledge base, and we are so grateful to both ASPCA and the Association of Fundraising Professionals for making this possible."
Stolen Horse International, a nonprofit organization also known as NetPosse.com, is well known as the "lost and found' place for horses on the internet for the equine industry.
NetPosse.com offers assistance in search and recovery of stolen or missing horses as well as assistance in location of finding lost horses in the event of runaways, stolen livestock, missing livestock guardian or farm dogs, stolen farm equipment, or stolen vehicles and/or trailers. Postings are available for those who are searching for a horse they have been separated from and wish to know current whereabouts or perhaps a history on one recently acquired.
Stolen Horse International.org provides education regarding prevention and mitigation of loss due to theft, methods of permanent identification of livestock and equipment, security measures that can be taken, and a web store with supplies for the equine buyer at reasonable prices. .
© 2016 – Stolen Horse International Public Relations – Pictures are available upon request.
For more information on Stolen Horse International and its programs, visit the website at www.netposse.com. Stolen Horse International is a Section 501(c)(3) organization under the Internal Revenue Code. Contributions to it are tax-deductible as charitable contributions.