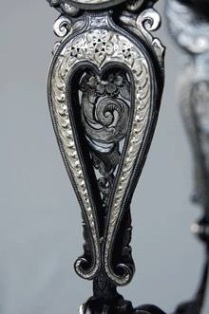 FALLON, NV - The Fallon police are searching for a one-of-a-kind equine bit stolen from a business over the weekend. The family that owns the bit is offering a $500 reward for information leading to the recovery of the bit.The bit was taken June 21st-22nd with other items from the Nevada business. This bit is special because it was made by a family member and the family wants it back. They believe it is possible that someone will try to pawn the bit since near the rodeo in Reno this week.
The bit was made in 2009 for the Traditional Cowboy Arts Association show in Oklahoma and individually engraved.
If you see this bit or have information, please call Fallon police at 775-423-2111, or call Drew at 775-423-6169.
---
Resource: KOLO 8 News Now, June 26, 2014, http://www.kolotv.com/news/headlines/Fallon-Family-Looking-for-Stolen-Horse-Bit-264753211.html
---