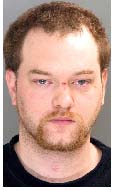 By Ellen Wright, NetPosse.com, December, 2011
In the category of "Yeah, Right-We Believe That", we have the story of Charlie the police horse. Charlie works with Office Wayne McVey in Lancaster, PA. He's a good horse-well-trained. That makes the fact that someone other than Officer McVey taking him a real problem-but that's what happened on November 7, 2011.
Officer McVey had dismounted and tethered Charlie so he could make his rounds inside some businesses in the area. While he was otherwise occupied, Adam Schulz spied Charlie, untied him, retied him to his belt, and started walking. Charlie, being the good boy he is, followed. Officer McVey came back to find his horse missing.[1]
Now the Lancaster Police do not take missing police horses lightly. They pretty much consider them to be just like one of the rest of the force. It wasn't too long before Schulz was located walking along with Charlie.
What is not clear is the rationale behind the taking of the horse. Schulz resides in a rowhouse in Lancaster. There is no possible place for him to put a horse at his home.
The prosecutor took a dim view of the situation and charged him with a felony theft since the horse was valued in excess of $10,000. His attorney is attempting to take the case to either Veteran's Court or Mental Health Court. He is currently in jail on parole violation.