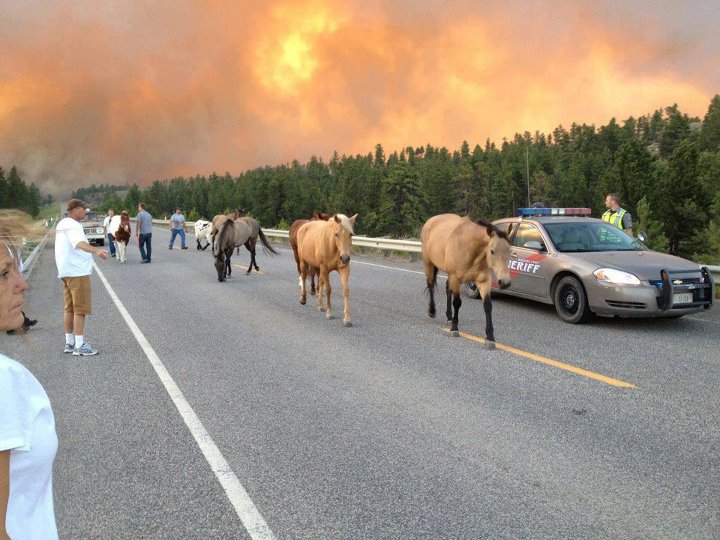 Click here for NetPosse.com One Minute Disaster Tips
In 2005, after the devastation animal owners suffered from Hurricanes Katrina and Rita, NetPosse began offering to list animals lost and found during natural disasters at no charge. Historically, NetPosse had only accepted equine reports, but this nonprofit saw a need and stepped up to fill the gap, extending listings to all types of animals. Since that time, there have only been a few natural disasters requiring our services until recently.
Hurricane Irene that hit the Eastern Coast on August 27, and the fires that swept Texas about a week later have left so many tragedies in their wakes. Horse owners were caught unaware as flood waters rose and fires ravaged out of control. Even those owners who have evacuation plans or escape methods cannot necessarily protect all of their animals when caught by surprise and given little time to react.
For those who have turned to NetPosse for help, we now reach out to the public for its assistance. Please help bring these horses home!
Whiskey - Bastrop County, TX - missing in barn fire then Texas fires swept the area http://www.netposse.com/view_report.asp?reportid=1405
Cowgirl - Bastrop County, TX - missing when herd turned loose as fires approaches - all others deceased http://www.netposse.com/view_report.asp?reportid=1453
Leland Neff's 22 thoroughbreds, paints and ponies - missing after flooding from Hurricane Irene in Schoharie County, NY (see story in the September 2011 NetPosse News)
Cowboy - missing after flooding from Hurricane Irene in Green County, NY http://www.netposse.com/view_report.asp?reportid=1424