SALINAS, Calif. — A rare arrest for horse theft was made in Monterey County and Stolen Horse International is so happy that the alleged thief was caught.

According to the Monterey County Sheriff's department, 41 year old Thomas Alvarez was found with a horse stolen on Friday night, September 4th, 2020.

Alvarez was arrested and booked on charges of grand theft.

The horse was returned to the owner after deputies tracked the horse down to the Sanborn Road area in Salinas.

Bail was set for Alvarez at $10,000.

We do not have any further information at this time about the arrest.

Feel free to comment in the comment section at the bottom of the page.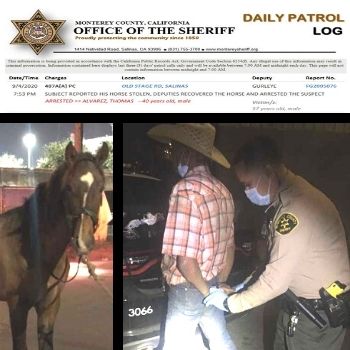 41 year old Thomas Alvarez arrested for horse theft.