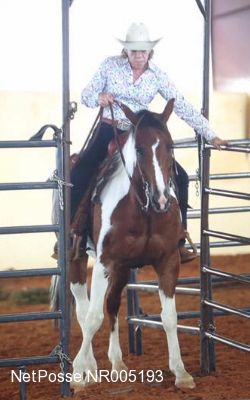 Ima Little Flicker aka Flicker Stolen 3/8/17

According to The Horseaholic's article,
Ima Little Flicker, a registered Paint gelding owned by, Cheri Wilson of Tolar, TX, was stolen from his boarding facility in Texas according to a post on Cheri Wilson's Facebook page. He was the only horse that was taken according to the post. Cheri wrote, "Stolen Please share these photos He is a registered paint horse owned by Cheri Wilson Please if you know where he is or have information who took him please come forward."
Cheri continued to write, "I truly love this horse He has helped me in so many ways I feel so close to Kris when I ride him He has given me confidence Please help me get him back." Cheri did not provide any contact for people who have information to come forward. Source: Cheri Wilson Facebook.
This horse has distinctive tobiano paint markings, with a unique facial marking.
For the entire article as written by The Horseaholic, please visit: http://thehorseaholic.com/stolen-horse-please-share-and-help-find-him/?utm_campaign=shareaholic&utm_medium=facebook&utm_source=socialnetwork
If you know any information regarding Flicker's whereabouts, please contact law enforcement or Stolen Horse International aka NetPosse.com immediately. Cheri Wilson is offering a reward for the safe return of Flicker.