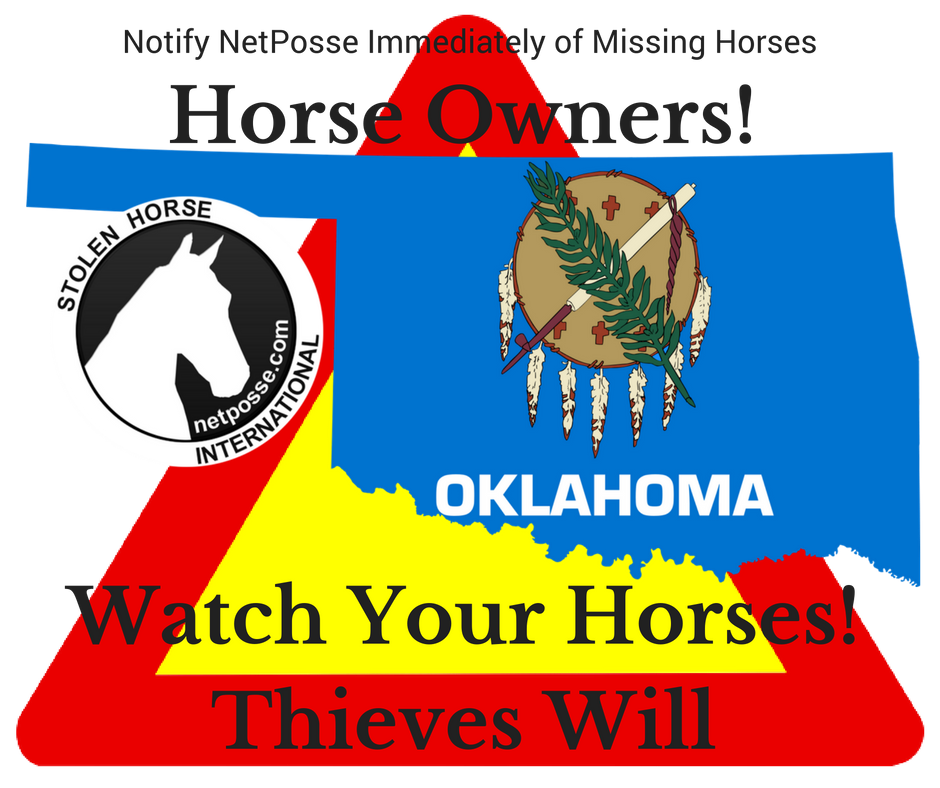 All we have to do here at Stolen Horse International is ask the NetPosse database to pull up the horses stolen in a state for any year and it will bring the information right up-and it can be stunning. Oklahoma has experienced a surge in the number of missing and stolen horses. We lump the two together because we are never sure in some cases whether or not it really is a criminal theft or a civil dispute. What is not questionable is that the horse is not standing where it should be-and that, right by itself, is terrifying. We're willing to sort the other stuff out after we know the horse is safe. We think you are as well.
There are several articles on this web site about how to make your horse more secure. Please-PLEASE-read them and put those measures into practice. There are no guarantees, but they will help.
This is a list of just the horses we are search for from Oklahoma for this year. These are just the ones we have had reported to us. We are sure there are more. Please-the sooner you report a missing horse, the harder you work our program, and the closer you stay to what we say do-the more chances you'll have to see that horse again. We cannot guarantee success-but we do know what we do works better than anything else going.
NR 005118 Peptos Gunpowder "Twister" NR005117 Cali, Charm,& Bucky
NR005113 Larry NR003881 Deets, Bree, Newt, & Spur
NR003825 Chief's Going Streak "Streak"
These are TEN horses that we would like to see back home. Please go to their web pages. Keep an eye out for them. We never forget-we hope you won't either.