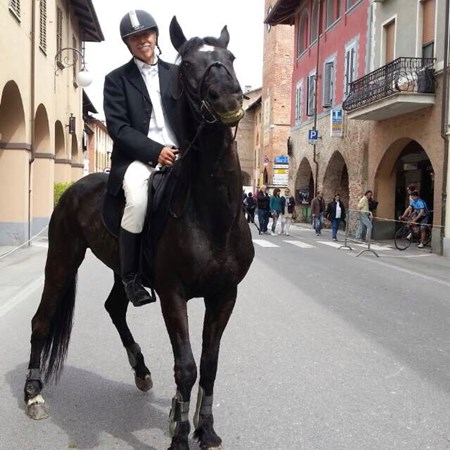 Roberto Anfosso
Photo Credit: Silvia Marchetti
I personally found this article to be very interesting about Dr. Roberto Anfosso and his profession which puts in to perspective just what a rider can do on the back of their horse. Being a full-time nurse myself, I have joked with my family and patients that I should just ride our horses to my patient visits but never really thought that there is someone out there that does that in this day and age! But hey, now I have a good reason to do it myself!
In this article written on August 18, 2016 by Silvia Marchetti on ozy.com, she asked the simple question to Roberto Anfosso of Cuneo, Italy - "How was your day?" This is an occasional series where Ozy takes to the streets and neighborhoods across the world.
Silvia Marchetti wrote that Dr. Anfosso explained "I'm on the run. Actually, I should say on the gallop. Riding across green rolling hills and shimmering rivers, my mustache blowing in the wind. It's my profession. Bet you're thinking, "What kind of a job could that be?" I'm a cowboy doctor, and I visit my patients on the back of my lovely horse. People envy me. Sometimes I almost envy myself. "....
......."I live like a knight physician in the Middle Ages. Each morning, no matter the weather — rain, snow or ice — I take all my medical equipment (stethoscope, blood pressure device, bandages, thermometers, antibiotics, ear inspectors) and throw it in a sack over my horse's back. I ride out into the countryside, picking up speed as soon as I reach the big oak tree just outside my hamlet where there's a breathtaking view that invigorates me, like a morning espresso. Riding like the wind is a drug.
My patients are shepherds and peasants who live in remote areas where there are no connecting roads, so the fastest way to reach them is by horse. No pollution, great views, pure oxygen fills my lungs making me almost dizzy."
For the full story as written by Silvia Marchetti, please visit this link: http://www.ozy.com/true-story/meet-the-doctor-who-makes-house-calls-by-horse/70482
Resource: Ozy.com, August 18, 2016, Silvia Marchetti, "MEET THE DOCTOR WHO MAKES HOUSE CALLS BY HORSE"
#doctor #housecalls #horseback #knightphysician #SilviaMarchetti #ozy.com #NetPosse #StolenHorseInternational
Posted By: Pamela Miller, Report Manager