As many of our fellow Americans prepare to celebrate the upcoming 4th of July Holiday, our fellow horse owners prepare for the nightmare that their horses may endure when the fireworks start. I, for one, used to love the 4th of July, BBQ and the beautiful fireworks displays. But now that we have horses, I honestly dread the thought of hearing those beautifully colored fireworks explode and then raining down on our barn/pasture. Don't get me wrong, I love to watch a good firework display but I want them to be held in a safe environment and away from homes and animals.
Before the Party:
Take current photos of all sides of your horse (with you in them) to have on hand in case they were to escape.
The 4th of July is also a great time to make sure your horse is microchipped. Be sure to visit netposse.com to read more about microchipping your horse: https://netposse.com/newsviewer.asp?id=2393
Speak with your veterinarian ahead of time. Discuss options that may include supplements or medication to help keep your horse calm during the fireworks.
First aid kit - not just for the horses but also the humans should your horse get spooked and injure himself or you.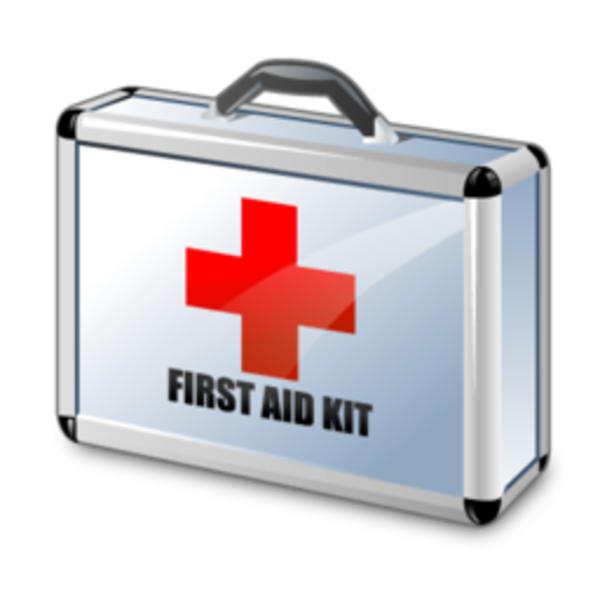 The Party:
Check all gates, paddocks, stall doors. And then check them again a few more times. It is best to keep your horses as far away from the excitement and noise as possible and in a safely fenced area. However, if your horse is not used to being kept out at night it may be best to not change their routine.
Keep on the barn lights and play music or watch TV. From my experience, it is typically the SUDDEN LOUD NOISES AND BRIGHT LIGHTS and not the loud noises and bright lights alone. The background sounds can help dull the shock of firework noises.
Hay, hay, and more hay. Why you may ask? Well a happy horse is a horse that is chomping away on their hay.
And don't be so preoccupied with the safety of your horse that you don't watch out for your own safety. Don't try to stay with your horse in his stall or next to him in the pasture to comfort him. If your horse does escape due to the fireworks, you probably won't be able to stop him and will risk getting yourself injured in the process.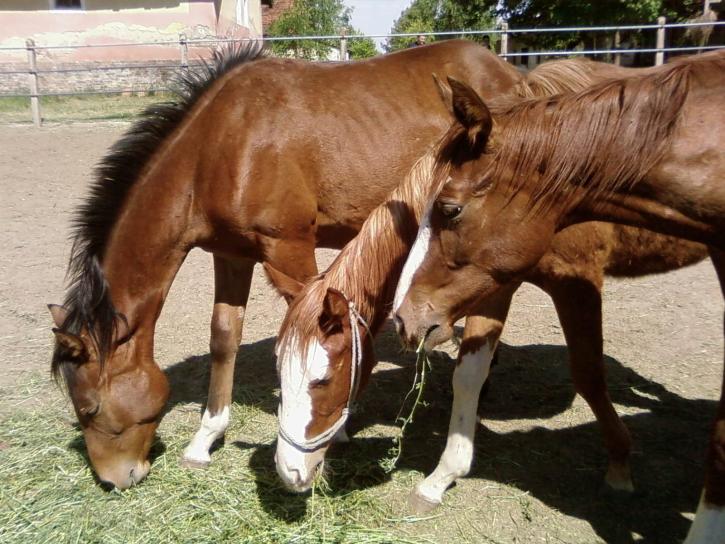 The After Party:
Check the pasture, paddocks, etc... for firework debris.
Start planning ahead for next year. The best defense against fear of fireworks is to desensitize your horse to unexpected sights and sounds using positive reinforcement.
Take a deep breath, let it out and smile knowing you've just survived yet another instance of otherwise sane people blowing up every firework known to mankind. Happy Birthday, America!
"Don't take your freedom and independence for granted, someone had to work hard and make many sacrifices for it." ~ Unknown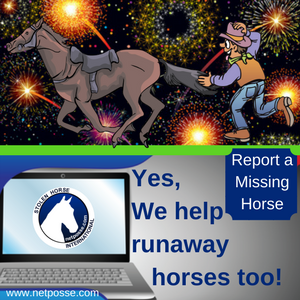 Did you know we help with runaway horses too? Just register for an account here on NetPosse.com
and click on FILE A REPORT. Select the Missing lost report.