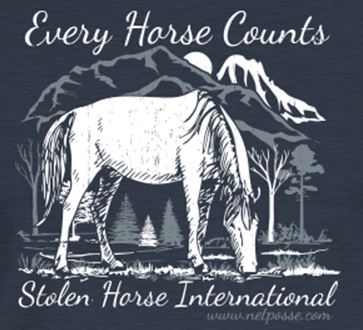 CLICK IMAGE TO ORDER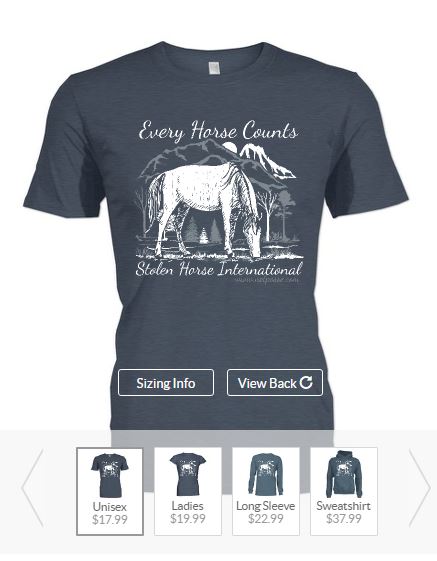 Choose from these types of shirts.
Stolen Horse International and NetPosse assists horses and their families who are facing the hardships caused by theft, disaster and the many other ways that a horse can disappear.
Our different programs focus on improving the mental and emotional well-being of these families while helping to search for their horses. Our goal is to help minimize the devastation the family feels during the search and ultimately helping bring their horse home.
Every Horse Counts--Stolen Horse International truly believes that-and we know that you do as well. We also believe that you believe in the work that we do-and that you are willing to support what we do. That's why we are offering this T-shirt that depicts Idaho grazing in the mountains of North Carolina safe at home. You know that we will work just as hard to help you bring your horse back as we would our own-and that's because we have been in your shoes.

This is Idaho's T-Shirt Fund-set up to honor the 31 year old horse who was the inspiration for this organization that has helped so many. Your purchase of a T-shirt or sweatshirt means that we will be able to continue operations for our victim's services and educational outreach programs for all horse owners. Various projects can continue forward-educational films, coordinational programs with law enforcement, working with horse councils, going overseas.
YOU are important to our success! Oour goal is 400 shirts. Please get one today for yourself or a friend. Never underestimate the power of one, you!
Click here to order during this LIMITED TIME OFFER!