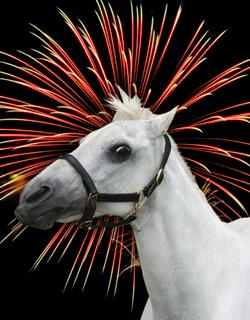 Did you know that many horses spook and run away on the 4th of July? It is also the day when more dog go missing than any other day of the year. Why? Fireworks of course.
To help you keep your animals safe and at home, here are 12 tips everyone should read today.
Sudden sparks and big booms from fancy 4th of Julyfireworks can send the calmest horse sky high. What can horse owners to do prevent panic and keep their horses safe during 4th of July fireworks and festivities?
Here are 12 tips for keeping horses calm and secure on the 4th of July, as firecrackers explode and fireworks light up the sky.
1. Stage all 4th of July fireworks (and 4th of July bonfires) away from horses. Barns, stables and horse facilities contain many flammable items, such as hay, straw and wood shavings. A single spark can prove disastrous in a horse barn.
2. Don't ride horses during 4th of July fireworks. The most docile horses can come unglued (even in an indoor arena) at the sudden sounds of firecrackers and 4th of July fireworks.
CONTINUE READING - CLICK HERE.
RESOURCE: examiner.com, Linda Ann Nickerson, July 1, 2014, http://www.examiner.com/article/12-tips-for-safe-horses-during-4th-of-july-fireworks
---