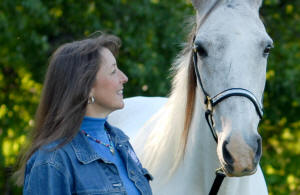 Wellington, FL - May 18, 2006 – When life throws you a curve ball, it's the way you handle it that often determines your destiny, and when Executive Editor Jean Llewellyn read Debi Metcalfe's personal story, she realized the potential of bringing this exceptional professional into the PhelpsSports.com team. "Debi is an inspirational person who hit the ball right out of the park when she was confronted with personal tragedy some years ago. It of course involved a horse." Her story is about a year-long, one-woman crusade that spanned the United States.
Debi Metcalfe was a regular wife, mother and horse-lover, living a quiet, unassuming life on the family farm in Shelby, NC. Her peaceful existence was shattered in 1997 when a family member of eight years, the much-loved mare Idaho, disappeared overnight from her pasture. Debi said; "A search revealed a cut fence and hoof-prints that ended abruptly where tire tracks began." Early efforts to recover Idaho exposed a total lack of resources for victims of horse theft. In desperation, Debi put her business on hold and spearheaded a campaign, using a "shotgun" strategy to blanket as much of the USA as possible with flyers, and talking to every horse dealer, law officer, and auction house that would listen. Debi admitted that, "the search required luck and prayer to succeed, but fifty-one weeks after the theft, a flyer ended up in the right place. Its reader made the call that brought Idaho home." At that moment Debi vowed that no other victim would have to face such a traumatic experience alone, and NetPosse, the media-generated nickname for her group during the search for Idaho, was born. Today, NetPosse and Stolen Horse International use the speed and networking power of the Internet to spread the word about stolen horses around the world. In 2005, an astounding 50% of horses reported to NetPosse as stolen or missing were recovered.
In the process of solving a crime and compiling her research, Debi Metcalfe became a recognized authority – among equestrian organizations and law enforcement circles alike –appearing on television and radio programs, writing newspaper and magazine articles, and addressing civic groups. Jean Llewellyn said; "Debi's speaking engagements deliver a powerful and inspirational message, and PhelpsSports.com offers the perfect opportunity to embrace a subject that touches the hearts and minds of all horse owners: Security." Jean continued, "Whether it's horses, trailers, tack … anything that has a perceived value to a prospective thief, adequate protection is critical in order to avoid the inevitable heartache. I'm thrilled that Debi has agreed to provide a regular column. It will be an incredible asset to PhelpsSports.com and the horse industry as a whole."
For Debi Metcalfe: "I am so happy to have been asked to work with PhelpsSports.com. What a wonderful opportunity for Stolen Horse International and the horse owners that will be united through education on this international equestrian news network. I applaud PhelpsSports.com for their ambition to become the CNN of the equestrian world."
PHOTO CREDIT: Debi Metcalfe with Idaho. ©Sean Lyon, www.lyonpictures.com. High resolution pictures can be requested at dmetcalfe@netposse.com.