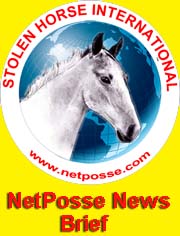 Overnight on October 3 the unlocked outbuilding in Yapton Road was entered and horse tack was taken.
The missing items included four head collars, including one purple and one navy marked Cocoa, and four rugs, including one lightweight dark and light blue rug, and one medium-weight blue rug.
The same day, sometime between 9.30am and 10am, property was taken from an unlocked car in Pagham.
The vehicle was left in The Parade and the items stolen included a Samsung mobile phone, a Blackberry mobile phone, a Gemini satellite navigation system, windscreen holder and black case.
A boat yard was also broken into sometime between September 30 and October 3.
Property was taken from a boat trailer when the compound in West Front Road was entered.
Anyone with any information relating to any of the above incidents should telephone Sussex Police on their non-emergency number 101 or call the independent charity Crimestoppers anonymously on 0800 555 111.
---
RESOURCE: bognor Regis Observer, Horse tack taken from open barn Published on Friday 12 October 2012 11:00, http://www.bognor.co.uk/news/horse-tack-taken-from-open-barn-1-4354768