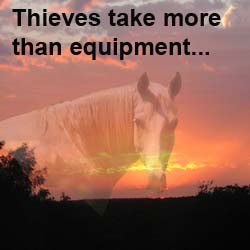 Texas, Sept 2, 2012 - At Stolen Horse International we keep telling people that thieves will take more than horses and tack when they visit your property. In this case one horse paid the ultimate price, his life.
Rodrigo Garcia can still spot the tire tracks from his own trailer in the dirt inside his Olmito ranch. It is the same trailer thieves loaded up with his equipment, which include a tractor, lawnmower, compressor, oxygen settling tanks, torch, gages, before taking off.
Garcia states that the thieves rode away with more than $12,000 worth of ranching equipment last week. Items can be replaced.
But the thieves stole something more valuable to Garcia, the life of one of his most valuable Palomino horses.
The horse belonged to his wife and is devastated by his death. They do not know how the horse died but feel sure it had something to do with theft since they appear to have occurred at the same time.
A police report has been filed by Garcia with the Brownsville Police.
Garcia is offering a $500 reward for any information that leads to an arrest or to his stolen property.
Anyone with information can call him at (361) 227-0426.
---
Resource: Valley Central.com, by Rafael Carranza, http://www.valleycentral.com/news/story.aspx?id=796001