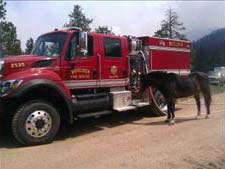 Lamier County, CO., June 13, 2012- Animals have keen senses that help them avoid predators or locate prey. From this story, you are able to see they can also sense safety.
The Boulder Fire Department was busy fighting the High Park Fire when a horse walked up to one of their engines.
What happens to the animals in a fire like this one? How are reunited with their owners?
This horse was taken to one of the large animal centers designated for the High Park Fire in Boulder County. The horse was found in Lamier County and then taken to another county. Will the people at the center be able to find the owner of the horse? Will the owner of the horse be able to find where their horse was taken?
What would make it easier to find the owner of a horse in a disaster situation? The answer is permanent identification. In a case like this a microchip or a brand registered in the State of Colorado would come in very handy for everyone involved.
Think about identifying your horse today. You never know when disaster will strike your area. Will you be ready?
Resource: KUSA-TV, Blair Shiff and Ashley Gurrera, http://www.9news.com/rss/story.aspx?storyid=272225&fb_ref=artsharetop&fb_source=timeline
---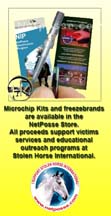 Microchip Kits and freezebrands are available in the NetPosse Store. All proceeds support victims services and educational outreach programs at Stolen Horse International.
Click here for more info and pricing.