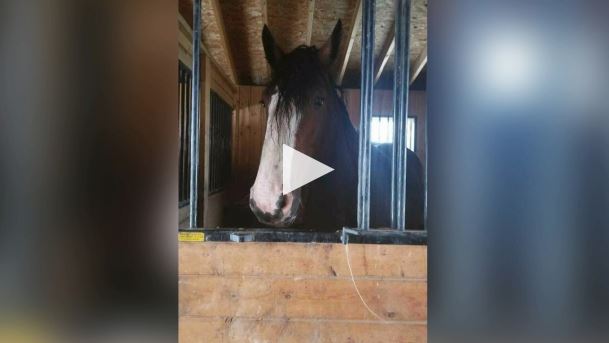 A devastated horse owner is appealing for information to help find her missing Clydesdale horse which she fears may have been stolen for meat.
Six-year-old mare Moly was last seen over a week ago in her pen on a farm in Entwistle, Alta., west of Edmonton.
Molly's owner Cindy Thomas found the stable unlocked Sunday morning.
The gentle giant was the only horse missing from the building she shared with five other horses.
Earlier this year in southern Alberta a pair of horses owned by a Lethbridge-area woman were sold to Bouvry Exports meat-packing plant in Fort Macleod while being boarded and were slaughtered.
Cindy said a big draft horse like Molly could be worth more than $800.
She told CTV Edmonton that she contacted Bouvry to alert them about Molly and that the company's brand inspector told her it had not had any Clydesdales handed in.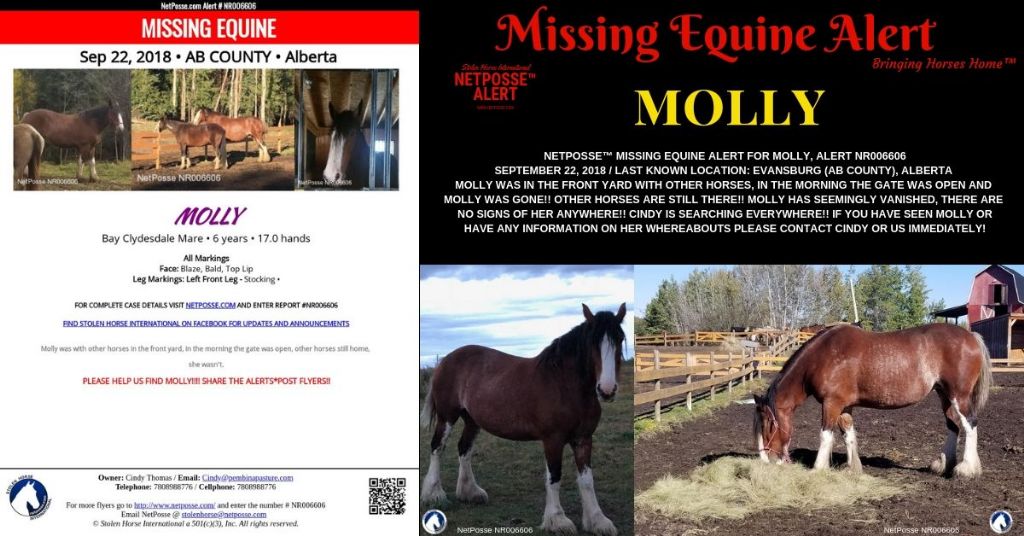 NetPosse™ Missing Horse Alert for Molly aka Miss Molly - Evansburg (AB County), Alberta: Molly was in the front yard with other horses, in the morning the gate was open and Molly was gone, other horses still there. Daily searches have provided no leads. Molly has seemingly vanished!! Have you see her?? See pictures, full details, contact info and flyer for Molly that we ask you to print and post
everywhere. The flyer can be found on their webpage: Click here:

http://www.netposse.com/

view_report.asp?reportid=66

06
Please help find Molly by sharing this information to your friends, social media groups, etc.
Read more and watch video here: https://www.ctvnews.ca/canada/devastated-horse-owner-pleads-for-return-of-missing-clydesdale-1.4115321
CTVNews.ca Staff
Published Sunday, September 30, 2018 10:27AM EDT
Last Updated Sunday, September 30, 2018 10:51AM EDT