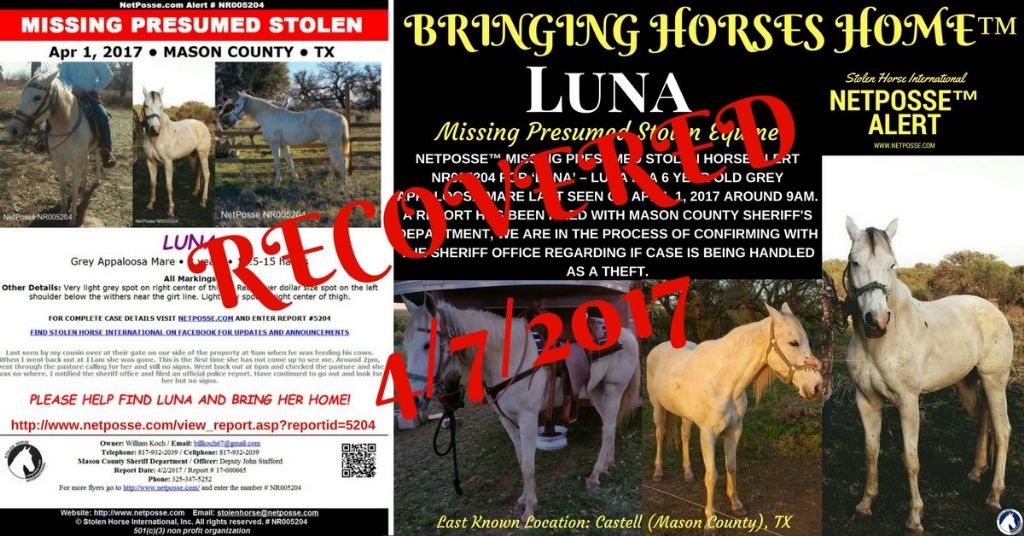 The Northwest Horse Source published the update on Luna's recovery April 8, 2017
Castell (Mason County), TX Friday April 7, 2017
Luna was reported stolen on April 1, 2017. Mr. Koch advised that she was last seen at 9am that morning. When he went out at 11am, she was gone. He notified the sheriff department and filed an official report with Mason County Sheriff Department. Mr. Koch in turn contacted Stolen Horse International aka NetPosse.com to request assistance in the search for Luna.
On April 4, 2017, Stolen Horse International, Inc. received the first online report on its web site, www.NetPosse.com, filed by Koch and, in short order, began distributing the information via their NetPosse Alert (the horse community's Amber Alert) on the Internet to hundreds of social media groups and private email contacts in an effort to rally the public to help the family. We immediately contacted the sheriff office and confirmed that Luna's case was being handled as a stolen horse.
Mr. Koch received a call on Friday April 7, 2017 from a Rancher 3 miles west of his home to advise they thought they might have found Luna. After they confirmed it was her, Luna was returned back to Mr. Koch. Somehow, she was behind a fence with 7 strands of barbed wire and two cattle gates. It is unknown as to how she wound up on this ranch. Mr. Koch is extremely grateful for the supporters of NetPosse.com, friends/family and the media that assisted in getting the word out about Luna's disappearance.
To read the article in it's entirety, please click here: https://www.nwhorsesource.com/stolen-equine-luna-recovered/