--By Fran Iwanicki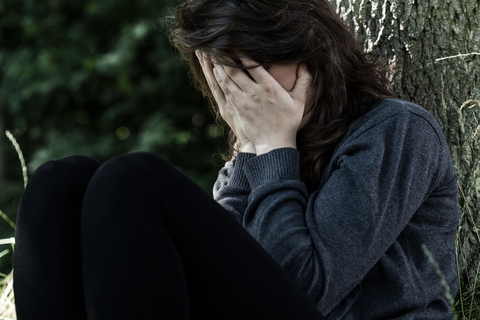 It is a beautiful sunny day and you head out to feed your horse. You notice a gate is open, or a fence is cut and your horse is missing. At first, you think you are not seeing things correctly, and you call to your horse. You are sure he must be behind a tree where you can't see him. Your heart rate elevates, your respiration rate increases, you start sweating no matter the outside temperature, and you get that terrible burning sensation in the back of your throat.
You know something is not right. Immediately you scan the area around your horse's pasture or barn. You look for that familiar topline above the tall grass; you call his name waiting for his nicker to answer your call. But there is no familiar topline and no answering nickers. Your horse is GONE.
Stolen? Missing? In the panic that surrounds this realization, you make phone calls to neighbors, family, and friends on your cell phone as you head back home to get on the computer. Facebook! You know if you post on Facebook, someone will have seen him. Maybe he's mowing down the neighbor's garden or eating some hay safe in a neighboring pasture.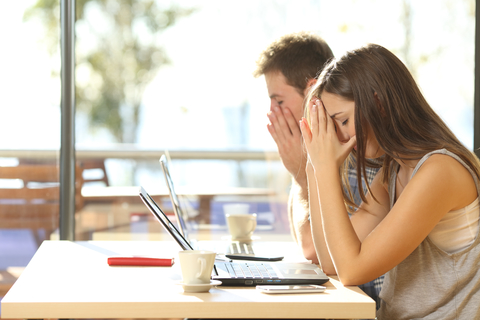 But, where do you post on Facebook? You post on your page, with a couple of photos of your horse. You hope your 348 friends will reshare your post – once they check their Facebook page. Your post is shared in some Facebook groups. The word is getting out. Now you wait. And pray and hope. You cry, you get angry and then you wonder why no one has seen your horse. Days pass and your post isn't at the top of anyone's news feed, or any of the groups where you posted. Days turn into weeks. You wonder if you will ever see your horse again.
Maybe you have taken all the precautions you can think of to keep your horse safe at home. But, what about when you are riding with friends or at a horse event. Stephanie (Nikki) Mayhew of Kings Mountain, NC experienced this scenario when her barrel horse, Rosie, got out from under her at an event. Fortunately, Rosie was recovered. Nikki gives credit to not just netposse.com but to friends and other horse owners that kept urging her to create a report on netposse.com.
Maybe you have heard the name Netposse.com or Stolen Horse International. You might have seen their posts on Facebook. But, what do they do? They just post on Facebook, like you just did, right?
Wrong.
Take a look at what goes on behind the scenes of Netposse.com.
Who is Netposse.com? You might have heard the name Debi Metcalfe and maybe read a post or a story about a horse named Idaho that was missing and then found. Okay, but how does that help YOU and YOUR horse.
Netposse is a "boots on the ground" organization. There are horse lovers and owners, who follow our posts, read the reports, print out the FLYERS, post, and distribute them. But, there is more.
Along with our loyal followers on social media and in our database, Netposse is made up of VOLUNTEERS. Our Core Group has been in place for over 15 years. That is more experience in one place than you will find on FACEBOOK "shadow groups" that have taken the premise of netposse and have launched facebook pages. Recently, we have seen a great deal of success with our Case Manager Program. We currently have 23 active case managers. Your first contact with Netposse might be a case manager that replies to a request, report or post on our page or website. They are also looking at social media posts and internet posts about lost or missing horses and may reach out to you first. Case Managers help send NetPosse Alerts in their state, and work with other case managers. They also monitor victim updates. Then there are our VOLUNTEERS. They are a dedicated group of individuals who are keeping their eyes open for your horse.
One key difference between FACEBOOK and NETPOSSE is that your missing horse information is spread not only via the internet (how many rural areas STILL don't have access to internet services in their area?) But also by many who physically are printing out the flyers and posting them in feed stores, and co-ops. There are volunteers keeping their eye out for your horse at auctions, in feedlots, at veterinary hospitals and in animal control yards. They are checking active and cold case reports against horses in auction yards, on craigslist and at horse shows and events. They are printing out flyers and distributing them to local feed stores, convenience stores, gas stations, restaurants and local businesses. They are making phone calls to horse people "in the know" in YOUR area. They are working, free of charge, on your behalf.
Everyone that is part of our Core Group, Case Manager Program or Volunteer base works for YOU without any compensation. These are not paid individuals, so where does your report fee go?
The cost of most of our verified paid reports is $25. HOWEVER, if your horse is lost due to a natural disaster, like a flood, fire, or earthquake you may file a report for FREE. When you file your report, not only do you have more than 30 years of experience behind the search for your horse, you also receive:
A webpage created and posted on Netposse.com for your lost horse. Your information will also be listed on NetPosse.com indefinitely. In addition, you can post your report to social media sites with a click of a button – no cutting and pasting and perhaps leaving off important information. Each listing will include four photos of your horse as well.
A printable flyer is produced for you with important and accurate information about your situation. Your flyer is then distributed so volunteers can print and post your flyer in convenience stores, gas stations and fee stores.
An Alert is issued nationally and in some cases internationally. These alerts are shared on Netposse networks, emailed to those in our database which currently numbers approximately 9000 sets of eyes
Through our social media campaigns, mailing lists, and BOLOs our reach is hundreds of thousand sets of eyes collectively
Consultation on what YOU can be doing to help recover your stolen horse.
In addition to the sharing and distributing information to help recover your lost horse, we also VERIFY information that is part of our REPORT process. This is priceless! As you have probably discovered by being a Facebook user, much of the information passed around as accurate – is not. For instance, there is still a circulating plea for help for 52 thoroughbred horses that need to be rehomed. All horses were rehomed YEARS ago, but the post still circulates.
An example of an open case we are verifying is Booster's case. He is an allegedly stolen horse sold at auction… but is he? We are working behind the scenes to determine this horse's actual story.
Check out Louise. We received this lead about a missing horse. We verified and determined this horse was NOT Louise.
When a horse is lost, missing or stolen, time is critical. The longer a horse is missing the harder it is to locatethat horse. But, while Facebook posts archive in timelines, your post on Netposse does not. Your report remains active on our website with a valid link. Your Horse's Page is GROUND ZERO. We work on our "cold cases" to keep your report, and your horse, in front of as many people as possible.
We aren't only posting on social media, but we sent out alerts and emails in the geographic area of where your horse has gone missing.
As technology develops many horse owners are looking for quick dissemination of information via social media and the internet. To answer that need, Netposse recently rolled out a new program called the BOLO program.
The BOLO or "Be On The Lookout" program is a quick response all-points bulletin (APB) broadcast issued from Stolen Horse International's NetPosse.com website to its alert network, or to other network contacts. The information posted in our quick alert BOLOs is not verified and receives a quick one-time blast to our social media network, alert network and network contacts. The cost of the BOLO alert is $10. You may also create a flyer for an additional fee. Keep in mind that you get a report, a flyer, and additional services for the verified report fee of $25. You can compare both services and decide which is the right choice for you on this page.
In order for Netposse to provide the services of reports, flyer creation, consulting services, website services, email lists, and programs like the BOLO we do charge nominal fees. These fees only cover a portion of our cost of doing business. And, while we are a VOLUNTEER based organization, we are also a recognized 501 (c) 3 organization which allows us the ability to accept contributions and donations that are tax-deductible to the donor. These contributions and donations are received through our fundraising efforts as well as personal donations such as our $5 per month club. We are grateful for donations that help us to keep our website active and up to date, as well as allowing us to continue to reach tens of thousands of contacts.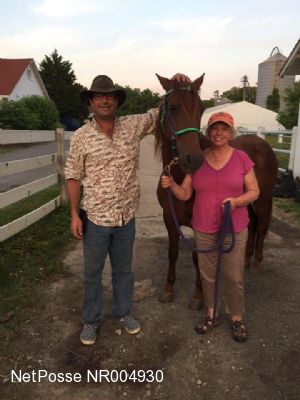 Play Doh and Owner Susan Crawford
and Netposse supporter Jeff Dwyer
Not sure that a verified report is worth $25? How much is your horse worth to you? Ask some of the most recent victims who recovered their horse with the help of our reporting and flyers.
Play Doh and his owner Susan Crawford. Hikers remembered seeing his flyer in a local Inn and spotted him while out on a hike.
Rosie and her owner. Debi Metcalfe made some phone calls and was able to track down Rosie.
Michelle Pool and Opie Found—after 10 years.
If you ask Debi Metcalfe or any of our Core Group, Case Managers or Volunteers what they think is the BEST thing we do, the answer may surprise you. They won't say is it creating the report or even finding the horse (BUT that is OUR GOAL). They will say it is providing something that you cannot put a price on. It is the human voice at the other end of the phone, it is the response to a text or private message that keeps you focused. It is the voice of reason when panic has taken over your life. It is the virtual hug and hand holding as you work through the process that gives you the BEST CHANCE to recover your horse.
We have the experience and knowledge we want to share with you that has worked in the past. We cannot guarantee you will get your horse back, but we can guarantee we will give you, the victim, the best experience, knowledge and compassion to help you get through this nightmare. We ARE that VOICE that speaks clearly, and loudly when emotions govern your world and well meaning friends (real or virtual) are telling you what to do, what not to do, or providing anecdotal information that really might not be helping YOUR case at all. We partner with you in this situation. We work for YOU.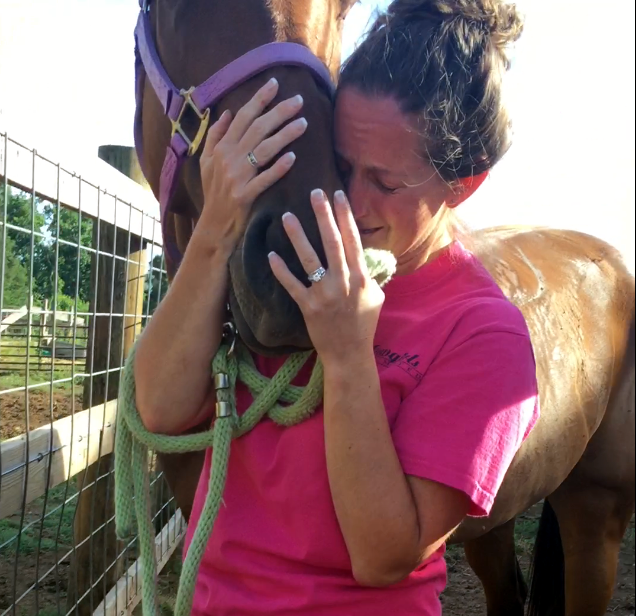 Rosie and Owner Nikki Mayhew -- Together Again!
"Never Underestimate the Power of One"