Before our USA (Yank to those in the UK, Australia, and New Zealand) get excited, thousands of pounds refers to the monetary value of the equipment in the UK. But now that we have your attention:
On January 14, 2014, unknown individuals broke into the stableyard of Arron Stevenson near Elmsbridge in Worcester and departed with saddle, stirrups, saddle clothes, and leads. Some of the tack belongs to boarders keeping their horses on the premises. Ms. Stevenson stated that these people had saved to purchase the equipment and could not afford to get replacements.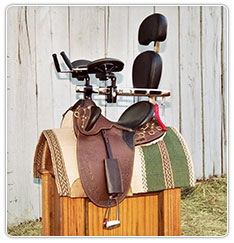 As for her own equipment taken in the theft, some of it was specialized for the rehabilitation work that she does. That, of course, means that it is custom done and very expensive to replace. However, it will be difficult to prove any of the items' ownership as none of them are marked.
Stevenson intends to go to various auctions around the countryside, but auction dealers rarely verify ownership of goods put up for sale.
http://www.worcesternews.co.uk/news/regional/worcestershire/worcester/10963531.print/