Click here to see all 22 horses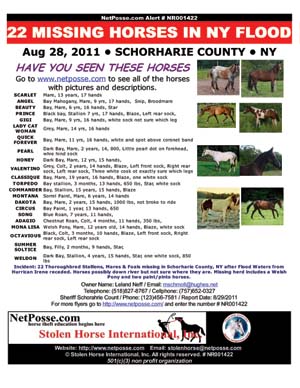 Please PRINT A FLYER and post in NY. Click flyer
to print flyer in PDF format and see all horses.
Updated flyer coming soon!
Thank you to all who are helping us help Leland Neff in the search for his horses.
Lelan Neff never thought August 28, 2011 would turn out the way it did. Twenty-two of his horses which includes Thoroughbred Stallions, Mares and Foals are missing in Schorharie County, NY after flood waters from Hurrican Irene receded from his property.
Is is thought that the horses possibly washed down river but not no one is sure where they are.
The missing herd includes a Welsh Pony and two Paint/pinto horses.
Go to the following page to view all the horses, information and to print a flyer with brief description of the horses.
Please help Leland search the community for his horses.
COPY AND PASTE FACEBOOK ALERT
NetPosse.com Missing Horse Alert After Hurricane Irene: 22 Horses missing Schorharie County, NY. Have you seen them? Please print a flyer, post it in your community. Pass this alert to friends and post on faceboo. Look out for them on Craigslist and other listing services and at horse auctions. http://netposse.com/newsviewer.asp?id=473
Other related story links: Click here
Facebook News and Announcement Resource