Shilo's flyer is available to print in PDF format
on his page. Please print flyers and post
them in your area or at horse events.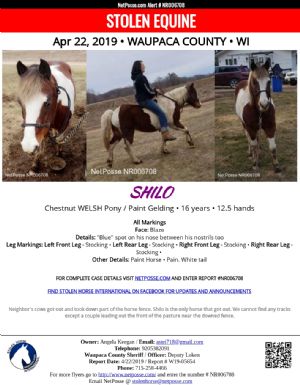 Angela Keegan, the mother of the 6-year old gril who owns the horse, reported the horse was missing and possibly stolen from their home.
Waupaca County Sheriff Deputy Jon Loken said this is an ongoing investigation.
Nothing else was missing from the property.
Keegan said she last saw Shilo eating in the pasture on the evening of Saturday, April 20th, and discovered him missing around 5 a.m. on Sunday, April 21st.
Click here to see Shilo's report on NetPosse.com. Don't forget to print a flyer and post in your area and all horse events.
Those who have information may contact us, the owner on the report or Waupaca County Sheriff's office at 715-258-4466.
Read full article here: https://www.waupacanow.com/2019/04/29/manawa-pony-missing/
Article posted by the Waupaca County News, april 29, 2019, by Holly Neumann.