By Fran Iwanicki
Locks, security cameras, microchipping, branding, these things can help to keep your horses, livestock, tack and equipment safe. But, what is the most successful and timely first line of defense to keep your horse safe?
The first line of defense to keep your horses safe is knowing your neighbor. Horse theft in rural communities is unfortunately an all too common experience. Even in horse dense communities like Norco, California, Ocala, Florida, Aiken, South Carolina, and Lexington, Kentucky as well as all over Texas' horse country horses are being stolen from farms and ranches. It is all too often we hear that someone "suspicious" was near a farm, barn, or gate AFTER horses are reported missing. Perhaps we should take some lessons from horse watch, farm watch, and rural area watch groups, which are more prevalent in the UK than in the US.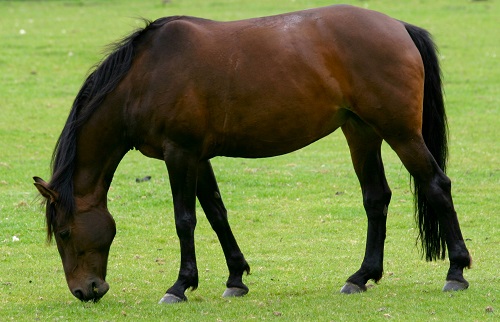 For those of us who live in areas where miles may separate our farms or barns, it may seem to be a daunting task to keep an eye on your neighbor. In these cases, it is even more important to keep neighbors aware of any planned movement of livestock from your farm or ranch. In the case of a resident of Fallon, NV, her horses were openly moved from a boarding facility. Area residents were able to provide information to the local law enforcement about a blue trailer seen leaving the facility after dark. By the time the horses were discovered missing, the "blue trailer" had been gone for over 14 hours.
Recovery of the horses was difficult since they had been moved to other states by the time the theft was discovered. It took the owner over two years to recover only some of her horses. The ones recovered had been sold to individuals by a private party or purchased through livestock auctions. The horses that were never recovered had been sold with fraudulent papers to trainers who then sold them to other individuals, breeders, and horse traders making tracking them unsuccessful. In fact, two mares were bred and foals were registered with fraudulent papers through the AQHA. Forged signatures were on the breeding report and registration papers. The owner contacted AQHA and like many had hoped that the AQHA would cancel the papers or take other action to help locate and recover the stolen mares, however, that was not the case. AQHA said it was a "civil issue" and provided no help in retrieving stolen horses, even when provided with police reports.
At the time, Net Posse and Stolen Horse Intl. were not yet known throughout the western states. Had national reporting been in place, perhaps all horses would have been recovered. Would a call to the boarding facility owner have made a difference? Quite possibly, it would have. Would you know whom to call if you saw horses being removed from a neighboring property during an "off-hour" or by "suspicious" means?
Doing research for this article brought to light how few organized rural area or neighborhood farm watches exist in the US. Most of the well-organized groups are in horse-favored areas in the UK. Not only do the local residents form them, but they are also part of the local law enforcement's awareness and community groups, much like "neighborhood watch" groups. Groups such as Sussex Horse Watch and Dayboro Rural Watch In the US there are rural watch communities in California such as Stanislaus County Rural Watch Not only can an area watch organization keep an eye on your horses, but also on tack, trailers, and malicious behaviors and activities around your property and horses.
One thing all of these organizations recommend is easy identification of your horses and property. Microchipping and Branding is one way to keep permanent identification of your horses (and dogs and cats can be microchipped as well!). Engraving or branding on metal and leather horse tack is recommended as well. Keeping your property posted with signs that livestock and property have permanent identification, such as with the W.H.O.Signs. Security Signs may be helpful in discouraging someone from stealing from your property. You can find an assortment of property signs in our Online Store.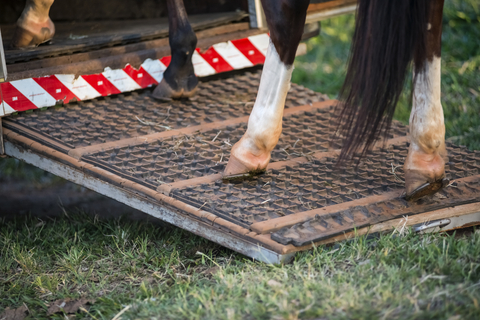 Once a horse, property or tack is removed from your property, it is harder to locate.
Ensure that you have done everything possible to deter a would-be thief from entering your property with lights, cameras, security systems, locks, and even loud livestock guardians such as geese, donkeys, and LG dogs. If you see something amiss or suspicious at a neighboring farm or ranch, pick up the phone and call your neighbor or your local law enforcement. Most horse owners would rather receive a "false alarm" call over returned home to find beloved horses gone from their property.
Another suggestion is to create information cards with your name and contact numbers, numbers of emergency contacts, including veterinarians or friends with trucks and trailers. Include a photo, name, and description of horses on your property. Knock on your neighbors' doors, introduce yourself, and leave a card with them. Ask them to notify you if any animals are being removed in trucks or trailers that do not meet the description of YOUR vehicles. Let your neighbors know if you are planning your animals to be removed from your property or if you are planning to be away and having your animals cared for in your absence. Ask even non-horse friends to check in with your farm while you are away and someone else is caring for animals.
If you think horse theft couldn't happen to you, remember this quote from Captain EJ Smith (Captain of the Titanic – quoted in the press just before sailing): "I will say that I cannot imagine any condition which could cause a ship to founder. I cannot conceive of any vital disaster happening to this vessel."