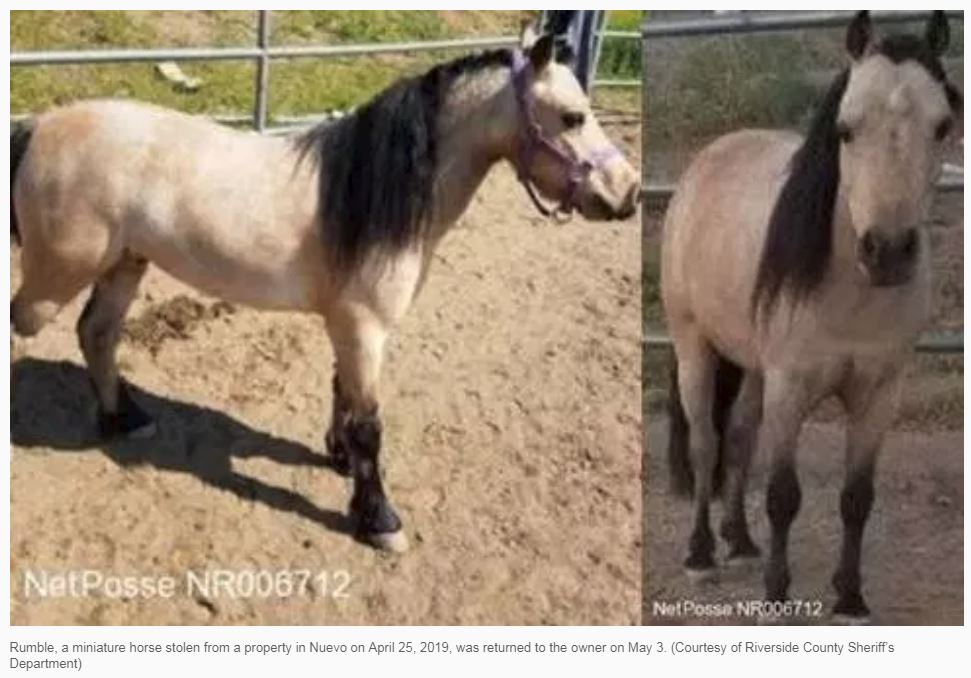 "Through the efforts of so many, investigators located Rumble at a nearby residence and reunited her with her owner. The criminal investigation is continuing," the Sheriff's Department said.
Brittney Cunningham said that effort included a feed store employee noticing some suspicious purchases and writing down the license plate of a vehicle. That led investigators to two men who said he purchased the horse from a person with a white trailer similar to the one seen near Cunningham's property the day of the theft, she said. Cunningham declined to identify the feed store.
Deputies are looking for a suspect who was driving black pickup, possibly a Dodge Ram, and ask anyone with information on the theft to call the Perris station at 951-210-1000.
Click here to read this news report.
Resource: By BRIAN ROKOS | The Press-Enterprise | PUBLISHED: May 3, 2019 at 7:33 pm | UPDATED: May 3, 2019 at 7:34 pm | https://www.pe.com/2019/05/03/miniature-horse-stolen-from-nuevo-home-is-found-search-for-thief-continues/