Found Horse Near Jurupa Valley, CA, 92509
NetPosse ID #
: 3311
FOUND, do you know me?
Gender
: Mare
Species
: Horse
Breed
: Arab/x
Description
: Found stray by Riverside County Dept. of Animal Services (California). Pulled from shelter April 1, 2020. Age ~6-10 (bottom teeth worn, uppers retain cups). Left eye blue, chestnut with four socks and a wide blaze.
Area Found
: Jurupa Valley, CA, 92509
Date Found
: 3/18/2020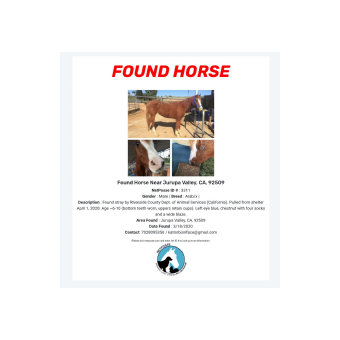 Attachments
There are no attachments to this entry.