Searching For Horse Near Mokena, IL, 60448
NetPosse ID #
: 3272
SEARCHING, have you seen me?
Name
: Splash
Gender
: Gelding
Species
: Horse
Breed
: Black/White Pinto
Description
: Splash, 16 yr old, 15hh, was taken by someone who agreed to temporarily house Splash and his companion Tara until a permit was secured to keep the horses on my property. Got the persons name and phone number then blocked me from the phone number. Location is possibly in Crete, Illinois.
Area Last Seen
: Mokena, IL, 60448
Date Last Known
: 9/9/2018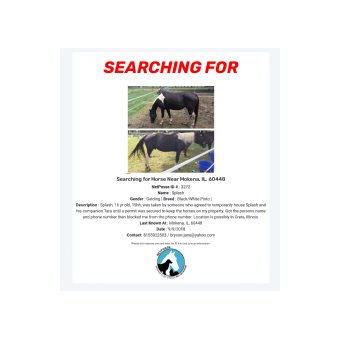 Attachments
There are no attachments to this entry.