Searching For Horse Near Winona, TX, 75792
NetPosse ID #
: 3035
SEARCHING, have you seen me?
Name
: Sissy
Gender
: Female
Species
: Horse
Breed
: Quarter Horse
Description
: Stolen under fals intentions for a payment plan. Taken and never paid for. This is a civil case and not stolen by law.
Area Last Seen
: Winona, TX, 75792
Date Last Known
: 12/19/2019 7:52:00 PM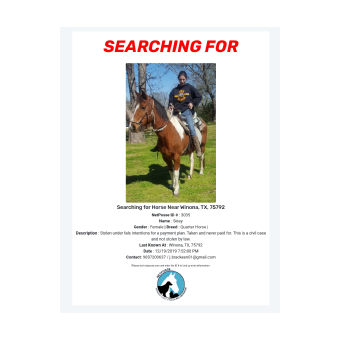 Attachments
There are no attachments to this entry.