Searching For Horse Near Winona, TX, 75792
NetPosse ID #
: 3034
SEARCHING, have you seen me?
Name
: Amy
Gender
: Female
Species
: Horse
Breed
: Paint/Pony
Description
: Horses were taken with an agreement to be paid for at a later date and payment was never received nor any word from individual who took them. This is a civil case and not stolen by law.
Area Last Seen
: Winona, TX, 75792
Date Last Known
: 12/19/2019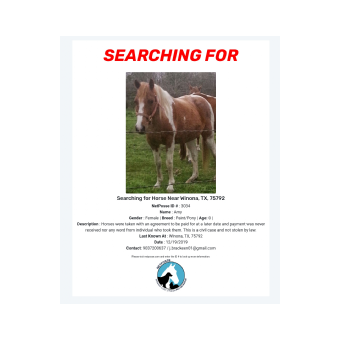 Attachments
There are no attachments to this entry.