Missing Dog Near Shelby, NC, 28150
NetPosse ID #
: 2977
MISSING, have you seen me?
Name
: Mollie
Gender
: Female
Species
: Dog
Breed
: Hound
Description
: Mollie, a 9-year old Female dog is missing from Whitmar Lake Rd, across from Whitmar Lake, in Shelby, NC. She has one blue eye, She is a beloved pet and has never gotten out like this before. Please help post her flyer located on this page and put it in places in Cleveland County, NC. If you see her please catch her and call Billy or Natalie at Home 704-419-1701. or text 704-589-5270.
Area Last Seen
: Shelby, NC, 28150
Date Lost
: 11/11/2019 10:37:00 AM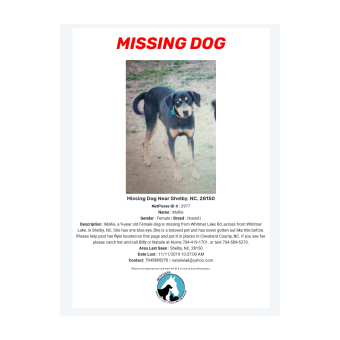 Attachments
There are no attachments to this entry.