Missing Horse Near Mineral Wells, TX, 76067
NetPosse ID #
: 2962
MISSING, have you seen me?
Name
: Blaze
Gender
: Gelding
Species
: Horse
Breed
: Paint
Description
: MISSING HORSE!! Salesville area (north of Mineral Well, TX). We have contacted the sheriff and TSCRA. PLEASE if you have any information or see this horse please call me at 214-693-8031 or call the Palo Pinto Sheriff! Blaze is a gelding close to 16 hands tall, with a "bar N" brand on his back left hip as shown.
Area Last Seen
: Mineral Wells, TX, 76067
Date Lost
: 11/2/2019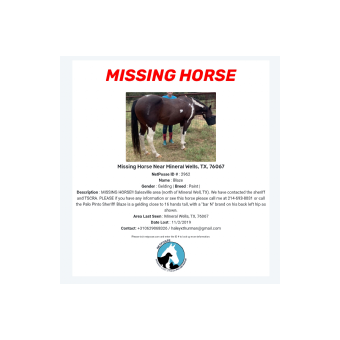 Attachments
There are no attachments to this entry.