Missing Horse Near Altoona , IA, 50009
NetPosse ID #
: 2929
MISSING, have you seen me?
Name
: Franciscus
Species
: Horse
Breed
: Thoroughbred
Description
:
We took a vet out to our boarding facility for Coggins and vaccinations. When we arrived 3 out of 4 horses could be found. We are not sure what happened to our horse. Have you seen him?
Area Last Seen
: Altoona , IA, 50009
Date Lost
: 11/21/2018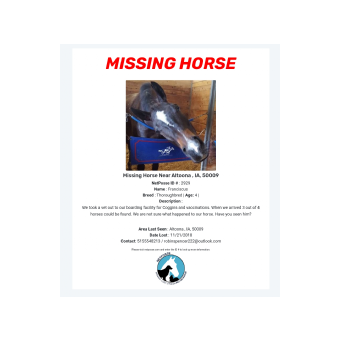 Attachments
There are no attachments to this entry.