Stolen Horse Near Black , Al, 36314
NetPosse ID #
: 2748
STOLEN, have you seen me?
Name
: Phantom
Gender
: Filly
Species
: Horse
Breed
: Apha
Description
: Phantom was out on free lease an not to be sold nor bred. She's 3 a yrs old torero very distinctive markings. She has possible dsld in her left front an cow hocked. She has a white strip in her. forelock. She was sold without permission an last known to be at Tar Heel killpen
Area Last Seen
: Black , Al, 36314
Date Stolen
: 8/8/2019 2:11:00 AM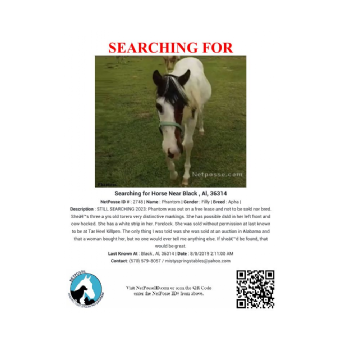 Attachments
There are no attachments to this entry.