Missing Horse Near White lake, Wi, 54491
NetPosse ID #
: 2732
MISSING, have you seen me?
Name
: Jag
Gender
: Gelding
Species
: Horse
Breed
: American paint horse
Description
: Was borrowed to a trail riding business on hwy 64 near grudgeville rd who had my mare in for training. Disappeared under suspicious circumstances with my mare. barn owner uncooperative and caught in lies, Was told tree landed on fence yet fence was not damaged and no sign of tree or saw dust. Mare was found 5 miles away that afternoon, jag has not been seen since 6:30am 7/16 with the mare and no new tracks. Jag has scars on all four legs, back of thigh and raised hair on nose from scars. Also missing chestnuts on both front legs from alsike clover poisoning as a foal. Jag is a show horse used in 4-H he's quiet very friendly and sociable and used to unfamiliar places. It would be extremely unlikely for him to just disappear or separate from the mare
Area Last Seen
: White lake, Wi, 54491
Date Lost
: 7/16/2019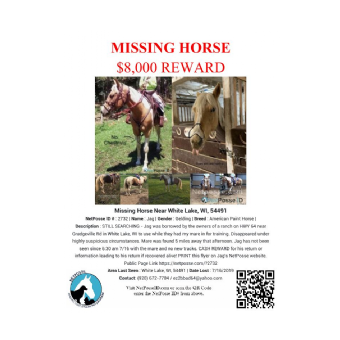 Attachments
There are no attachments to this entry.