Missing Horse Near White Lake, WI, 54491
NetPosse ID #
: 2726
MISSING, have you seen me?
Name
: Moon
Gender
: Gelding
Species
: Horse
Breed
: Spotted Saddle Horse
Description
: I rescued this guy from a Kill Pen in 2016. I paid a few thousand in getting him healthy and UTD on everything. He was to much horse for me and to beautiful to just be a pasture pet. A women in White Lake was rehabilitating a horse and I saw her post and saw the care she seemed to show this horse. I asked her if she was interested in Moon under the condition that if she ever had to re-home him, that I would take him back. I got him out of that Kill Pen and I wanted to make sure he never had to go through that again. I let ai take Moon to be used on their trails because he needed a job. I gave the woman 200.00 for gas through PayPal to pay for gas to pick him up. I kept in contact and got pictures periodically but I noticed she had posted a few horses for sale in December because they didn't have enough hay. I realized I made a mistake. I messaged her and asked questions but she didn't answer. Then on June 28th 2019, she told me "We had such a traumatic winter. So much stress and family issues." and I said where is he and she waited forever and said he died. I asked how and she said colic and vet said twisted. What does stress and family issues have to do with him dying? Nothing but it has everything to do with if she sold him. She wouldn't let me talk to the vet and she blocked me. I needed to know for sure if she sold him, ( I didn't charge her anything for him because the agreement was I would take him back at any time) If he died as she claims then just let me confirm with vet so I don't have to imagine him on a truck or being starved. She ignored my phone calls and messages and so did Mike. I just need to know the truth
Area Last Seen
: White Lake, WI, 54491
Date Lost
: 3/1/2019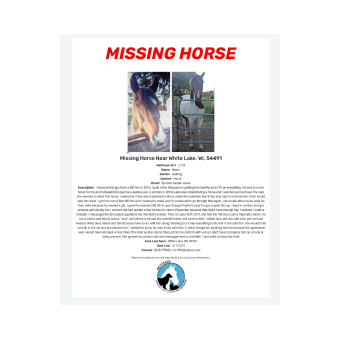 Attachments
There are no attachments to this entry.