Missing Horse Near Rainbow Valley , AZ, 85326
NetPosse ID #
: 2725
MISSING, have you seen me?
Name
: Pistol
Gender
: Gelding
Species
: Horse
Breed
: Palomino
Description
: Horse spooked and ran off while being tacked up, by inexperienced rider. No halter, but had saddle on. 16hh, abscess on left hip.
Area Last Seen
: Rainbow Valley , AZ, 85326
Date Lost
: 7/29/2019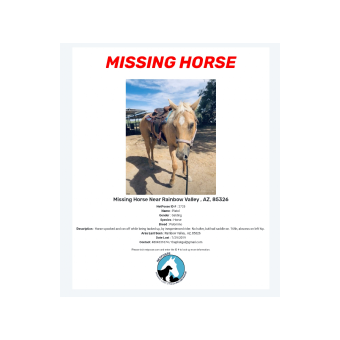 Attachments
There are no attachments to this entry.