Missing Horse Near Lexington , KY, 40516
NetPosse ID #
: 2636
MISSING, have you seen me?
Name
: Teke
Gender
: Gelding
Species
: Horse
Breed
: Thoroughbred
Description
: I had put my retired horse up for adoption as I did not have the time to care for him. ****** ********* contacted me shortly after about wanting a companion horse for her barrel racer. Everything seemed to check out, she had a friend picking up broodmares in Lexington, KY where I had him and they picked him up that afternoon. She had promised to send pictures of him which never happened. I contacted her a few times to try and get some but she always had an excuse. After seeing the news reports I realized why I never got a picture. I'm hoping Teke is still out there somewhere somehow.
Area Last Seen
: Lexington , KY, 40516
Date Lost
: 4/1/2017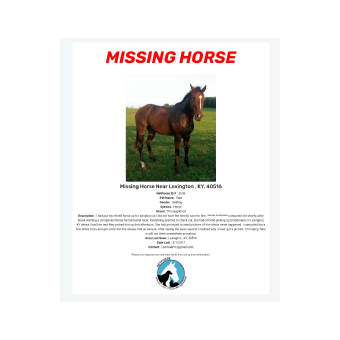 Attachments
There are no attachments to this entry.