Stolen Dog Near Aspen, Co, 81211
NetPosse ID #
: 2628
STOLEN, have you seen me?
Name
: Ripley
Gender
: Female
Species
: Dog
Breed
: Bernese Mountain Dog
Description
: Possibly last seen with a hitchhiker on the top of Independence Pass. The hitchhiker is described as male with strawberry blonde hair with a beard. 5'8" approximately 150lbs.
Area Last Seen
: Aspen, Co, 81211
Date Stolen
: 6/29/2019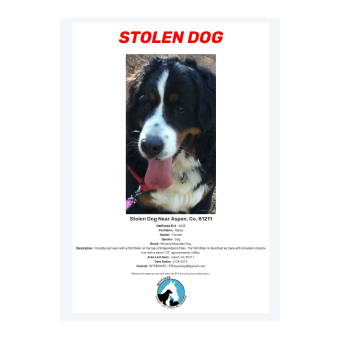 Attachments
There are no attachments to this entry.