Stolen Dog Near Almont, CO, 81211
NetPosse ID #
: 2627
STOLEN, have you seen me?
Name
: Ripley
Gender
: Female
Species
: Dog
Breed
: Bernese Mountain Dog
Description
: Ripley slipped out of her collar while camping on June 29th. On July 3rd she was possibly seen with a hitchhiker who. Got into a white ford transit van headed east towards Leadville/Buena Vista. Ripley is friendly, microchipped and has a big freckle on the top of her nose.
Area Last Seen
: Almont, CO, 81211
Date Stolen
: 6/29/2019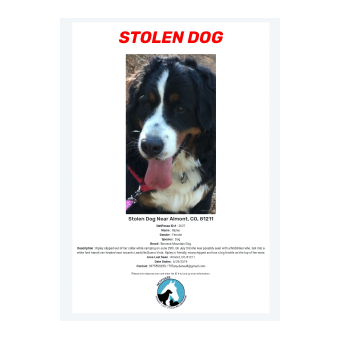 Attachments
There are no attachments to this entry.